How To Reduce the Risk of COVID-19 and Travel to Japan 😷
Traveling gives us a special time and experience, whether it's being moved by a view that we've never seen, meeting unforgettable gourmets, or taking a leisurely break at a hotel we like.
But the spread of COVID-19 infection earlier in 2020 has limited our travel.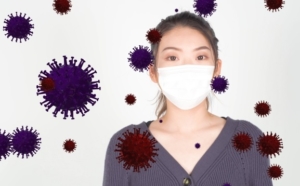 Now that "new way of life" are being explored around the world, we need to think about our future travels.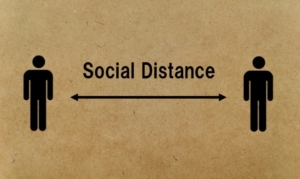 Even if you don't have any plans for your travel right now, I've put together a list of things you should know about, how to spend your time at the hotel, and other things you should be careful about in case you ever travel again.
Why don't you check the points to enjoy your trip with peace of mind?
Let's make a plan with plenty of time!
In Japan, as a countermeasure against COVID-19, the government recommends avoiding "Three Cs".
3Cs means "Closed spaces", "Crowded places", and "Close-cotact setting".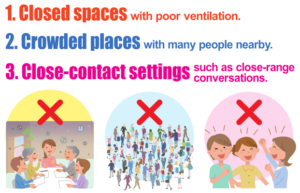 In order to avoid 3Cs with people, it is important to have flexible plans such as "If it is crowded, let's postpone and go to another place.".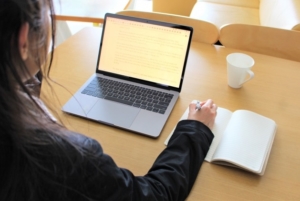 In addition to the places you would like to visit, if you pick up some sightseeing spots around the area that you are interested in, you will be able to move flexibly in the area and enjoy sightseeing while avoiding being dense.
Avoid crowded times during transportation and sightseeing!

If you are a "I want to avoid places with as many people as possible and go to popular tourist spots.", I recommend visiting during the off-peak hours.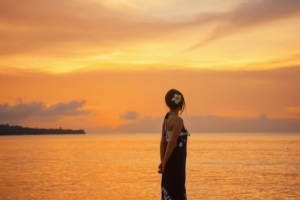 If it's early in the morning, you can look around quietly while feeling fresh air. If you start out a little while it's still dark and take a walk looking at the streets that gradually become brighter as you walk, you'll feel refreshed.
While avoiding crowds, why don't you experience the charm of a different sightseeing spot?
Get advance reservation tickets!

As a countermeasure against COVID-19, the number of tourist spots where you can purchase admission tickets online in advance is increasing. I recommend you to buy tickets in advance as much as possible.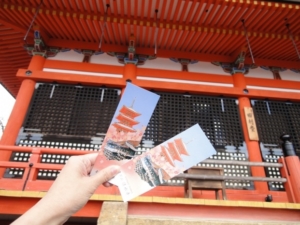 You can avoid the inconvenience of not being able to enter after going to the site because there are entrance restrictions and facilities with specified time.
Currently, the business conditions and sales methods of the tourism industry change frequently, so check the official website before you leave your home.
Don't forget the essential belongs for COVID-19 countermeasure!

Alcohol sprays and gels used to disinfect masks and fingers have become a daily necessity. Of course, don't forget these when you travel.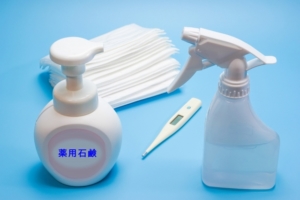 It can be difficult to wash a cloth mask in a travel destination, so I recommend a disposable mask. You may get the mask dirty, so you should bring more including some extra.
You should bring some alcohol wet tissues and a thermometer for physical condition management.
You will feel more secure if you bring liquid soap in small portions so that you can wash your hands with soap anytime and anywhere.
Always wear a mask when you act!

A mask is essential when traveling by train or bus or in places where many people go.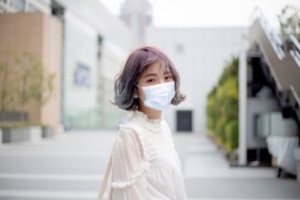 When you're not in your hotel room or eating, wear a mask to protect yourself and others.
If you use a commercially available cold spray that you spray on the mask, you can be relatively comfortable even in the hot season.
Wash your hands and disinfect your hands frequently!

We tend to forget about it, but let's wash hands and disinfect frequently not only during sightseeing but also while staying in a hotel or a ryokan.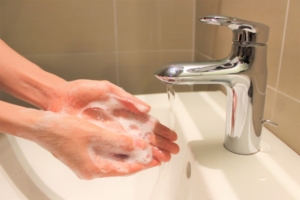 Don't forget to wash your hands before leaving your room, even if you eat at a hotel or a restaurant in a ryokan.
In order to get rid of dirt on your hair and body, it is a good idea to take a bath early when you arrive.
Don't chat too much on the train or bus!

When you're traveling with a lover, family, or friend, you want to chat while you're on the move. But don't talk too much on public transportation like trains and buses.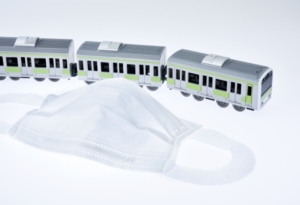 You can chat as much as you like later, so why don't you take your time and enjoy the scenery unique to your trip? You might be able to see a superb view that you might have missed.
Don't chat too much in the shared space!

Don't chat too much at the reception, lobby, corridors and other common areas.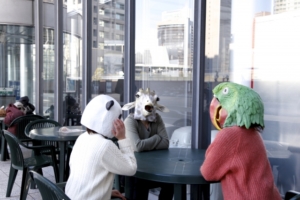 Please save the pleasant conversation such as the impression of the trip and the plan for tomorrow to your room.
It is important to keep an interval between people when you stand in line for check-in and check-out and in the elevator.
Open the window to ventilate the room!

When you stay at a hotel or a ryokan, you tend to forget the ventilation of the room. If your room has windows, please change the air frequently.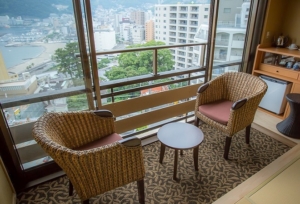 You can feel the chirping of birds and the murmuring of a river in a hotel in the middle of a forest, and you can feel the refreshing sea breeze and the smell of the tide in a hotel near the sea.
You can also feel the air that is unique to a travel destination and release your mind.
Choose a plan in which one can dine in one's room!

If you are staying at a ryokan, you might want to choose a plan where you can eat in your room.
You can enjoy a meal leisurely while chatting with others without hesitation. The time to indulge in a special meal with local ingredients is the best reward for yourself.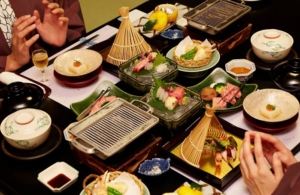 If you share the deliciousness with your family and friends in a private space, you will smile.
If you are staying at a hotel, it would be nice to use the room service for breakfast as it has a special feeling.
Safe and smooth by e-money!

Using e-money such as IC card or QR code is one of the measures recommended by the government.
If you pay by cash, you will come into contact with people through money, but if you pay by e-money, you don't have to worry about that and the accounting is smooth.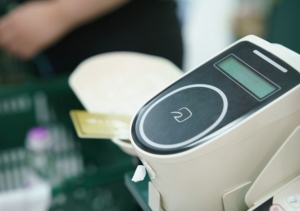 You just need to put the minimum amount of cash and cards in your wallet, so you can go sightseeing easily.
In Japan, e-money such as NFC and QR code payments has become available at many hotels and commercial facilities.
Unfortunately, foreign tourists cannot use Japanese e-money because it uses unique technology.
Currently, Visa and Mastercard are the only e-money (contactless payments) that foreign travelers can use in Japan, but there are still few stores that accept it.
You can use it at Lawson, 7-Eleven and some stores.
Please the following:
【Cashless payments available at Lawson】
Visa and MasterCard contactless payments registered in your country can be used in Japan.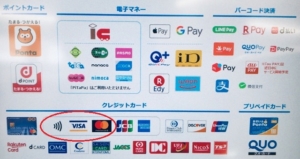 This time, we introduced common COVID-19 measures in Japan.
It can't be 100% safe if you go out.
However, there are many ways to avoid the risk of infection.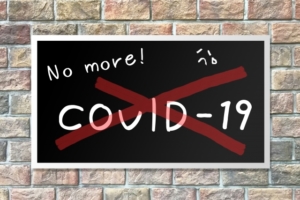 There is a proverb in Japan, "When in Rome, do as the Romans do.".
On the websites of the Ministry of Land, Infrastructure, Transport and Tourism, there are easy-to-understand illustrations and introductions, so please take a look.
Let's make a safe trip with less risk of infection by holding down the point of a new trip!
(Visited 63 times, 1 visits today)
---