7 Recommended Hotels Around Hakata Station 🏨
♥Posted by Misato♥
Fukuoka Prefecture is a tourist spot full of attractions such as Dazaifu Tenmangu and Itoshima, Motsunabe, Mizutaki and Hakata Ramen.
If you go on a women's trip to Fukuoka, I recommend staying around Hakata Station.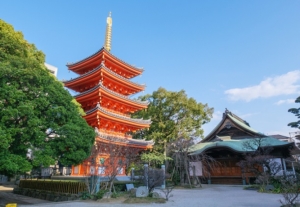 Not only is it a base, but it is also in an excellent location where you can enjoy Hakata gourmet after sightseeing, and there are many hotels where you can enjoy your stay.♪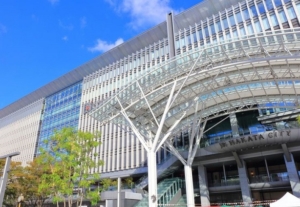 This time, I will introduce hotels that is perfect for women's trip around Hakata Station!
Please check the access from Hakata Station as well.
Hotel Nikko Fukuoka

A first-class hotel that has been loved for many years
This is about a 3-minute walk from Hakata Station, and since the station is directly connected to the hotel via an underground passage, you can travel on rainy days without getting wet. Even if you have many suitcases and souvenirs, you will be relieved.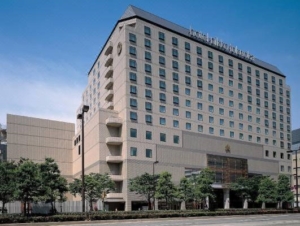 The hotel has been loved by the locals for over 30 years since its opening, so you can be assured of the first-class hospitality. They will gently support your girls' trip.( *︾▽︾)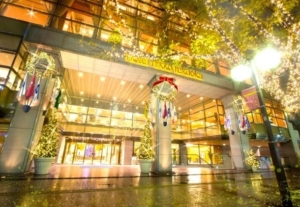 You can choose from several types of room, but I recommend the Deluxe Twin Room Corner.
It has a bright atmosphere with plenty of sunlight coming in from 2 large windows, and there is a large sofa in a large space of 51 ㎡.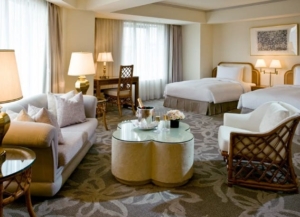 Why don't you stay in a nice room as a reward for your hard work?
For dinner, you can enjoy Hakata gourmet dishes such as Motsunabe and Mizutaki at restaurants around the hotel.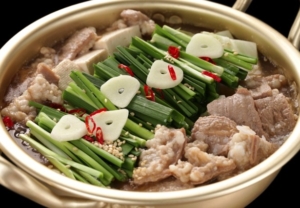 After that, let's drink again at the Main Bar Vol de Nuit on the first floor of the hotel. The interior, which is inspired by a study in a British house, is full of dignity and perfect for a group of adult girls.[]~( ̄▽ ̄)~*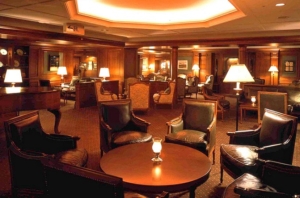 Let's have fun until the end of today by talking about happy memories and love!
Find out more!



THE BASICS FUKUOKA

Spend time in a modern and sophisticated space
It is a hotel about 7 minutes walk from Hakata Station, and it is characterized by the book library installed in the atrium lobby.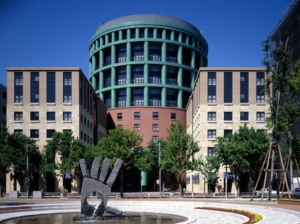 The circular bookshelves are full of extraordinary feeling as if you were in the world of fantasy movies.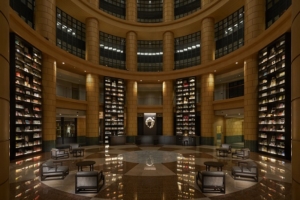 You can actually pick up about 5,000 books and read them. Why don't you find your favorite books and tell each other your impressions?
Chapter, Episode, Story and other rooms named after the Lobby Library are all elegant and stylish. If you stay in Episode and Story, you can also use the special lounge, so you can enjoy a relaxing time while drinking free alcohol and soft drinks.♪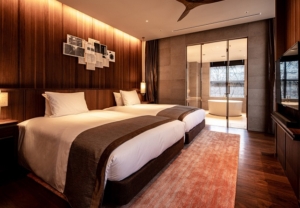 I recommend using the delivery service that delivers breakfast directly to your room. With this, you can stay at your own pace even in a busy morning.(* ̄▽ ̄*)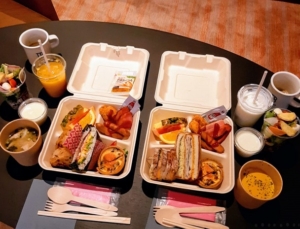 It is a healthy menu with fermented food, and you will be able to enjoy the following sightseeing energetically.
Find out more!



Miyako Hotel Hakata

An urban resort directly connected to Hakata Station
This is an urban resort with a luxurious feel as well as an excellent location directly connected to the Hakata Station East Exit.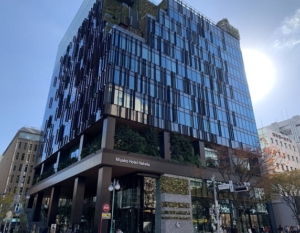 All of the guest rooms are spacious, more than 30 ㎡, and you can relax comfortably.
You can feel the waterfall flowing on the wall of the hotel in the guest room The Terrace. It is a room surrounded by an extraordinary feeling that you may forget that you are in Hakata.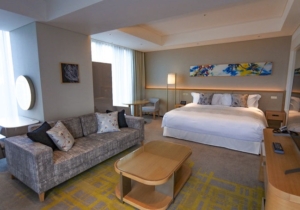 Let's forget the hustle and bustle of the city and get rid of the tiredness of traveling.
You can refresh your body tired from sightseeing at the rooftop hot spring spa. Next to the hot spring pool is a waterfall that flows down from a height of 8m.(⊙o⊙)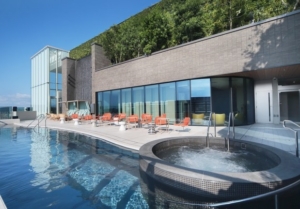 Another point is that you can move from your room by the special elevator. Let's enjoy a higher level stay in Hakata since this is a girl's trip.
SOME WHERE RESTAURANT & BAR on the 13th floor is a restaurant where you can enjoy various ingredients from all over Kyushu. Dinner overlooking the city of Hakata is full of travel feeling.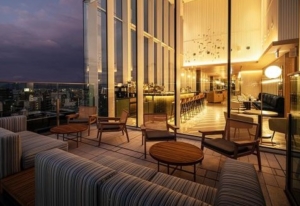 There are also private rooms. Why don't you enjoy the taste of Kyushu a little extravagantly?
Find out more!



THE BLOSSOM HAKATA Premier

A stylish space where you can feel Hakata
This hotel is located about 7 minutes walk from Hakata Station, and you can feel the modern Japanese atmosphere of Hakata.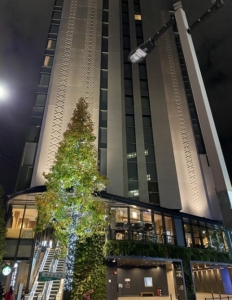 There are various types of guest rooms, but I recommend HAKATA Twin-Sai which is on the 14th floor at the top.
It is a security floor that requires a special card key, so you can use it safely even if it is a trip only for women.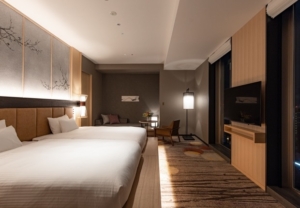 If you stay on the top floor, you can use the special lounge HAKATA LOUNGE which has a spacious feel with windows on the whole wall, and drinks such as alcohol are free flow.♪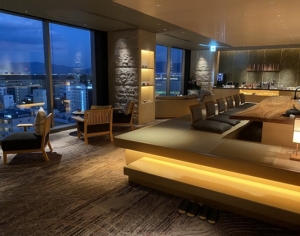 When you check in, you can enjoy Matcha and green tea as welcome drinks, and in the evening you can enjoy Japanese sake and wine from all over Kyushu as a bar lounge.♥
I recommend you to enjoy alcohol moderately so that you don't get bothered to go out after drinking too much.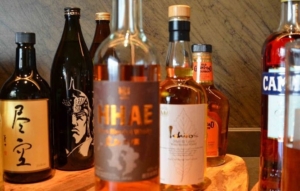 There is also a large public bath and fitness room in the building.
The hanging decoration Sagemon on the wall of the large public bath is decorated in Yanagawa River during the Doll's festival period.(✿゚▽゚)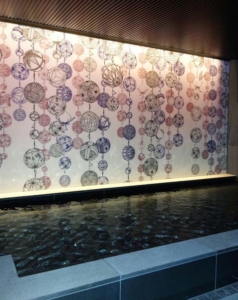 The bath time while feeling Hakata is full of travel feeling. Bathing with arms and legs stretched widely will blow away the tiredness from traveling and sightseeing.
Find out more!



With The Style Fukuoka

A stylish hotel with suites in all rooms.
This is a stylish hotel with the image of Palm Springs, a resort in California, and you can feel as if you are traveling in United States. It's a 7-minute walk from Hakata Station.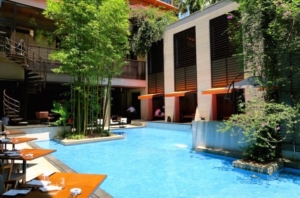 There are only 16 guest rooms, and all of them are spacious with a suite and terrace. The room Twin is too cute with its bright magenta color.♡(≧ ▽ ≦)♡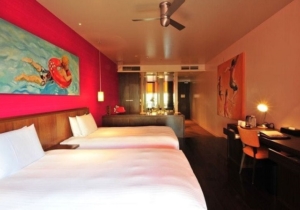 All rooms have a free mini bar, so you can drink as much as you like. Moreover, breakfast and lunch are all inclusive and you can use them freely the day after you check in.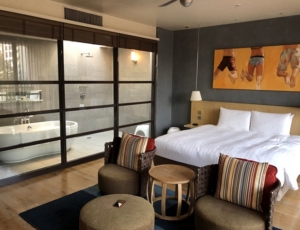 If you want to start sightseeing right away, you can eat a lot of breakfast, and if you play too much the day before, you can have lunch … and you can plan any kind of play.
Meals can be used for room service, so it's nice to enjoy it elegantly on the terrace in the room too.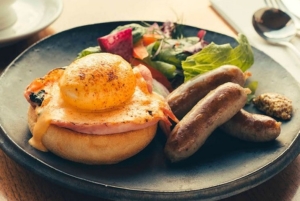 If you feel a little tired from sightseeing, why don't you enjoy a tea time at ON THE DECK-BAR LOUNGE at the poolside of the building?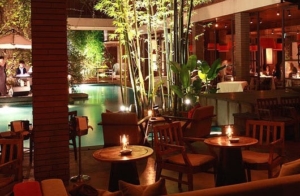 Because it is a stairwell, you can feel the sky and it has an excellent healing effect. Let's go sightseeing around the area again when you feel better!
Find out more!



Grand Hyatt Fukuoka

Good location for sightseeing in Canal City Hakata
The hotel is located in Canal City Hakata, a commercial complex popular with locals and tourists. It is about a 10 minute walk from Hakata Station and within walking distance to Nakasu, making it an excellent location for sightseeing.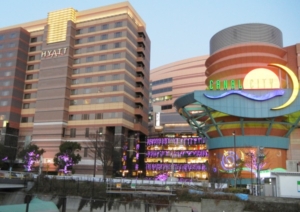 Anyway, it is perfect for those who want to play a lot in Hakata!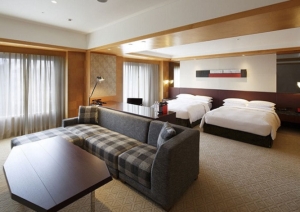 The guest room has a quiet color and is spacious enough to relax. Every room has a large bathtub and a separate shower booth, so you can relax in your bath time.♪ With this, tiredness from walking around for a day can be healed.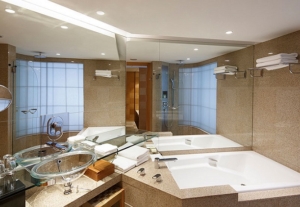 You can order breakfast from room service. If you can start your day with grace, I'm sure you'll have a very pleasant day.(╹ڡ╹ )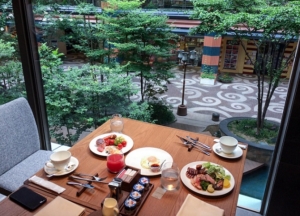 If you want to use a restaurant, you can enjoy a buffet or set menu at THE MARKET F, an all-day dining.
Find out more!



Oriental Hotel Fukuoka Hakata Station

Casual and convenient hotel
This is about 1 minute walk from Hakata Station, and it is directly connected to the underground passage, so it has excellent access.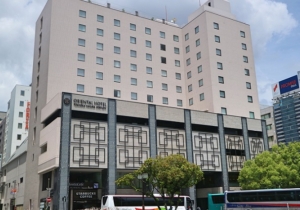 There are convenience stores, cafes and restaurants nearby, and it is easy to use with simple and functional guest rooms.
I recommend it to people who want to enjoy sightseeing more than staying at a hotel.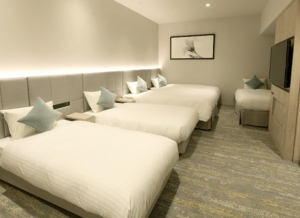 Up to 5 people can stay together in a deluxe twin room! When you travel in a large group, you don't have to worry about the room and time, and you can enjoy the girls' meeting as much as you can.(ノ◕ヮ◕)ノ*:・゚✧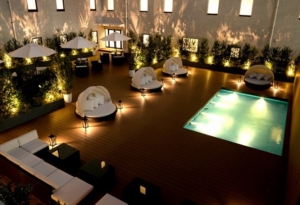 The building is full of facilities such as cafe, bar and gym. Above all, I recommend the Executive Garden for guests on the 5th floor.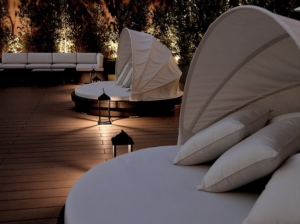 You can use it from morning till night, and you can have the menu of cafe and bar delivered. You can take as many photos as you like here too.( *︾▽︾)
Why don't you spend your time here with your friends?
Find out more!



There are various types of hotels around Hakata Station. All of them are within walking distance from the station, so they are perfect as a base for sightseeing.♪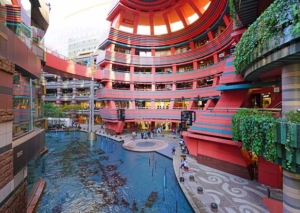 There are restaurants and hotels where you can feel Hakata in the interior, and it is nice to enjoy the stay itself.
How about planning a women's trip to Fukuoka based on hotels around Hakata Station?
5 Recommended Hakata Ramen in Tenjin, Fukuoka
(Visited 34 times, 1 visits today)
---