7 Guestrooms with Open-Air Baths – in Chichibu, from Tokyo 🚄
♥Posted by Aya♥
Chichibu, located in the northwestern part of Saitama Prefecture, is a popular tourist spot that can be reached in 80 minutes by limited express train from Ikebukuro, Tokyo.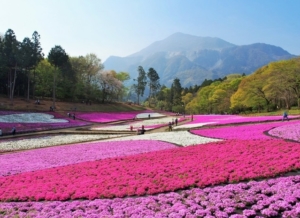 The attraction of Chichibu is that you can enjoy it throughout the four seasons. In the spring, the shibazakura of Hitsujiyama is dyed pink all over the area, and in the summer, river rafting and rafting, where you go down a torrent looking at beautiful rocks, are popular.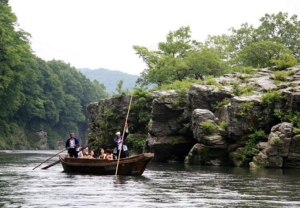 And Chichibu is dotted with attractive hotels and inns, and some of them feature open-air baths surrounded by wonderful nature.
The accommodation fee will be expensive, but if you stay at guest room with an open-air bath, you can take a bath as many times as you like and relax without worrying about time or surroundings.(●ˇ∀ˇ●)
This time, I will introduce hotels and inns where you can stay in a room with an open-air bath in Chichibu.
Nagatoro Choseikan Ryokan
It is a long-established inn established in 1915. Located right near the Arakawa River, the inn takes pride in having a panoramic view of the scenic spot of Nagatoro Valley, the rock pavements, and the Japanese garden from the guest rooms.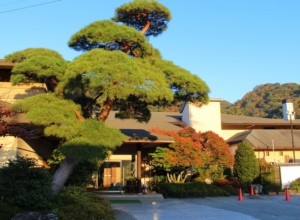 Of course, you can enjoy the view from the guest room with an open-air bath.
Flowers are arranged everywhere in the building, so please enjoy the beauty.
There is a Japanese-style room with an open-air bath that is just the right size for couples to stay. You can see the view of Chichibu from the terrace seats with chairs.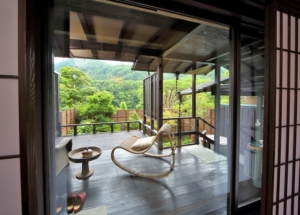 There are mountains in front of the open-air bath, and you can see the scenery of each season. The view of fresh green from spring to summer and autumn leaves in autumn is the best.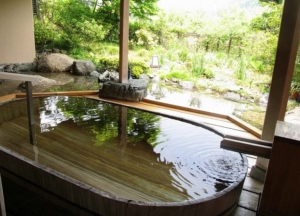 It is romantic to take a bath late at night and look up at the starry sky.☆彡
You can use a private dining room in the building. The view from the window is like a painting. After indulging in Chichibu local cuisine such as "Boar Meat Hotpot" and "Salt-grilled freshwater fish", why not stroll around the large garden?
Nagatoro Choseikan Ryokan
OYO Hatago Ichiban
Hatago, the name of inn, used to refer to a house where travelers could sleep and eat. This inn has been flourishing since the Edo period and has a pure Japanese-style appearance.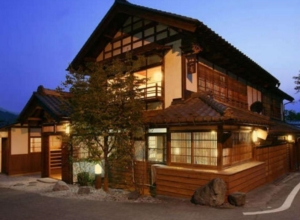 There are 2 types of rooms with an open-air bath, and you can choose between a Japanese-style room Yamaboshi and a Western-style room Wabisuke.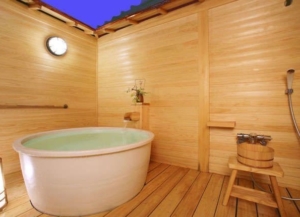 Wabisuke's open-air bath has a white porcelain bathtub. On the other hand, the Yamaboshi's one is made of Japanese cypress.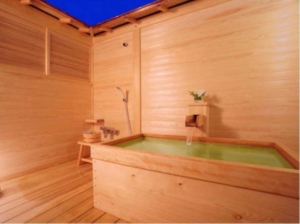 After taking a bath, make a toast with cold champagne in the refrigerator.♪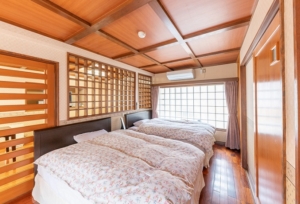 After all the guests have checked in, the check-in counter changes to a bar "Scottish Cabin". Spending time in your room is nice, but enjoying your adult time at the bar will be a wonderful memory of your trip.
OYO Hatago Ichiban
Petit Hotel C'est La Vie
This is a popular inn like a villa standing in a clear stream of Nagatoro.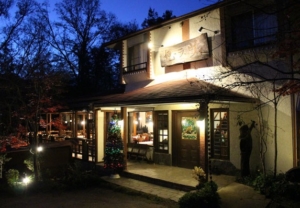 The inside of the building has antique-style furniture everywhere, and it is a cute space where you can catch the heart of a lady.
There are only 5 rooms here, each with a different design. 4 of these rooms have an open-air bath.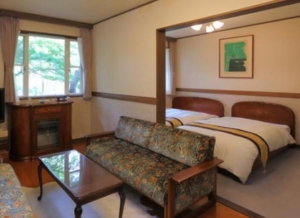 C Room is an open room where a lot of light comes in through the window. You can see the Chichibu mountain range from the balcony.
The furniture in the room is calm and you will feel very elegant!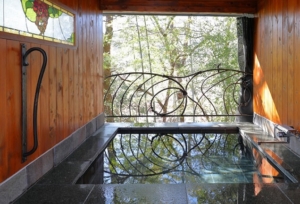 T Room surrounded by greenery is also recommended for couples. You will be healed as you can see greenery from the open-air bath.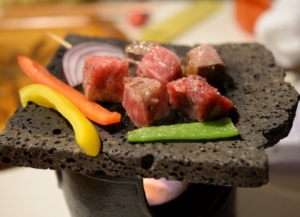 The meal is healthy with 40 kinds of vegetables including dinner and breakfast. If you want to eat it well, you can order additional "Wagyu Beef Cube Steak on a Lava Stone Plate".
Petit Hotel C'est La Vie
Yu no yado Wado
The inn is located between Chichibu and Nagatoro, and there are 14 guest rooms with an open-air bath in the new building and the main building.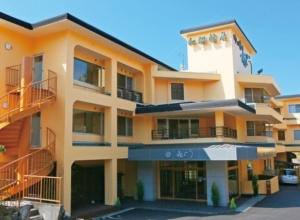 There are 3 different types of bathtubs, and the room design is Balinese, so it has an exotic atmosphere. All rooms have a terrace facing the Yokose River. I also recommend the private bedrock bath.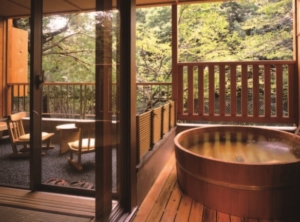 The resort room is equipped with a cypress indoor bath and two ceramic open-air baths.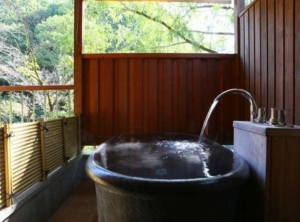 There is a terrace overlooking the Yokose River, and a wooden bathtub is installed right next to it. You may want to take a long bath or a half body bath.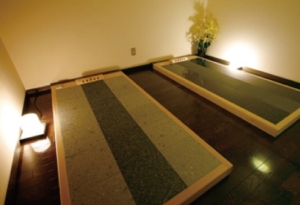 The bedrock bath has beds for "Maifan Stone & Germanium" and "Wave stone and lava stone" that can be reserved. It's not so hot, so you won't feel suffocating like a sauna.
Yu no yado Wado
Araki Kosen Ryokan
Established 1827 years ago, it is the oldest hot spring inn in Chichibu. Since the restaurant has not been renovated on a large scale since its opening, it still has an atmospheric atmosphere, and you can relax in the calm atmosphere of folk art.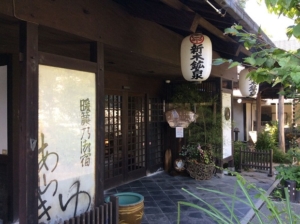 The open-air bath attached to the room is usually a normal hot water, but this one uses a hot spring source. There are even original lotions and soaps on sale, so you can expect good water quality.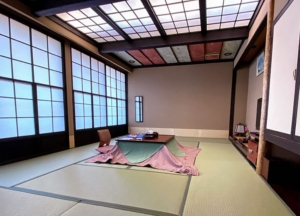 All 4 guest rooms with open-air bath have kotatsu. Hori-gotatsu (sunken kotatsu), which not only warms you up in winter, but you can sit down with your feet down, is comfortable even if you sit for a long time.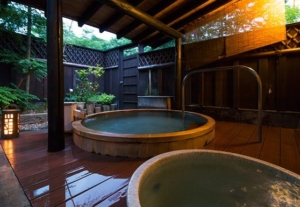 The material of the bathtub depends on the room, and there are bathtubs made of Shigaraki ware, granite, and Japanese cypress.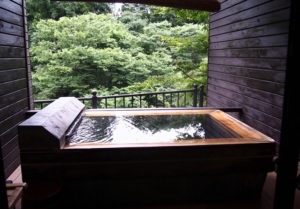 While you are soaking in the bath at home, it seems like you will be reminded of the fun memories of staying in a room with an open-air bath.(❁´◡`❁)
Araki Kosen Ryokan

Miyamotoke
It is an inn renovated from a farmhouse in the Edo period. There are traditional Goemon-buro and Irori fireplace in the tasteful Japanese-style calm space, and you will feel as if you have slipped back in time.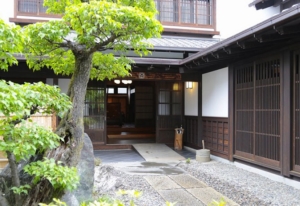 You can enjoy kushiyaki dishes made with the Irori fireplace, Satoyama Irori Kaiseki, and traditional dishes made with local ingredients.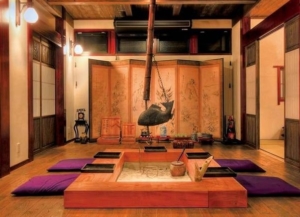 There are guest rooms with an open-air bath in the annex.
Inkyo-no-ma is the highest grade room. Half of the open-air bath is installed on the indoor side, and you can see the garden from the window. With this, you can soak in hot water slowly even on rainy days.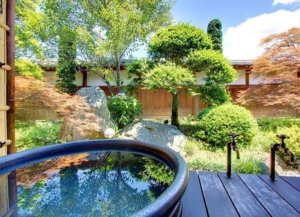 If you prefer a more open open-air bath, I recommend a room of Yome-no-ma.
Various services are offered, such as choosing a colored yukata and drinking alcohol at a bar renovated from a brewery.♪♪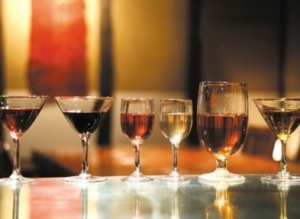 In particular, as many as 50 kinds of Yamanomi-sake (Japanese wine) can be drunk for free only by hotel guests within the time limit.
Miyamotoke
Taketori monogatari
An Inn with a total of 7 rooms modeled after Taketori Monogatari. The essence of Taketori Monogatari is scattered all over not only the restaurant and the bath but also the passage.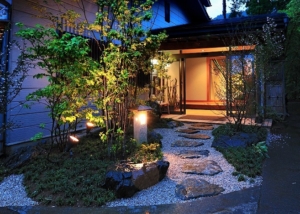 For couples, we recommend a detached special room "Onyado Taketori Monogatari".
In addition, the inn has a reputation for delicious food, and you can enjoy carefully selected Japanese cuisine such as handmade soba noodles made by the owner of the inn, sashimi of river fish, and rice cooked in earthen pot that changes every season.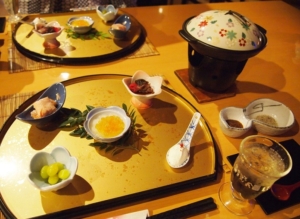 The special room "Kutsurogi-dokoro" was created in the image of the old man's house, which was made rich by Princess Kaguya. You will be able to relax comfortably with light shining softly through the bamboo set in the window.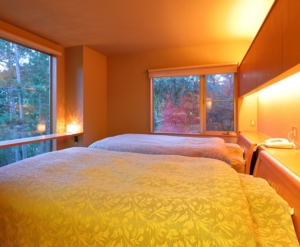 "Yudokoro" has a large jacuzzi bath. Of course, you can take a bath anytime 24 hours a day. There is also a small open-air bath, so please use it on a warm day.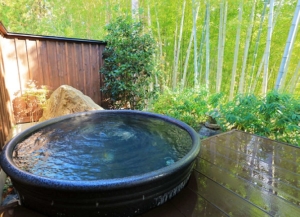 Princess Kaguya, thinking of her hometown … As if to respond to her feelings, the bedroom faces south so that the moon can be seen.
On the day of the new moon, you fall asleep while looking at the starry sky.☆彡*:・゚✧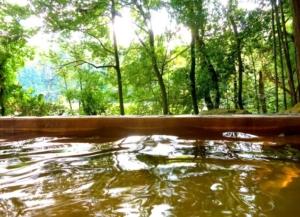 In addition, on the aisles and walls of the special rooms, there are writings of Taketori Monogatari.
Taketori monogatari
I introduced an inn with a nice room and a popular hot spring inn by word of mouth.
Please visit Chichibu and have a wonderful time at "guest room with an open-air bath".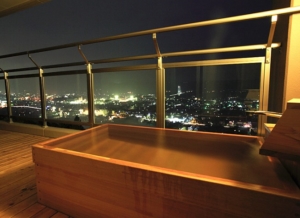 3 Inns Without Meals in Kinosaki Onsen ♨♨♨
(Visited 103 times, 9 visits today)
---