7 Best Inns for Touring Kumano Kodo, Wakayama 🏞
♥Posted by Aya♥
Kumano Sanzan (Three Main Kumano Shrines) in Wakayama Prefecture is a World Heritage site that has been worshipped by many people since ancient times, including Kumano Hongu Taisha, Kumano Hayatama Taisha and Kumano Nachi Taisha. That pilgrimage route is called Kumano Kodo.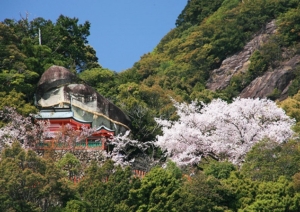 Welcome to World Heritage "Kumano Kodo"
Kumano Kodo is a long route that leads to Koyasan, Yoshino in Nara and Ise, which have been rated as three stars by the Michelin Green Guide.☆☆☆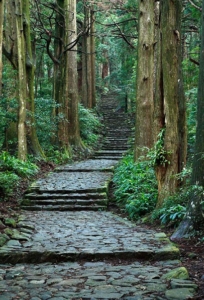 ♪(´▽`)
It is surrounded by unspoiled nature and sacred air. Why not go to a World Heritage site rich in nature and take a deep breath and refresh yourself? And let's inhale sacred power with delicious air.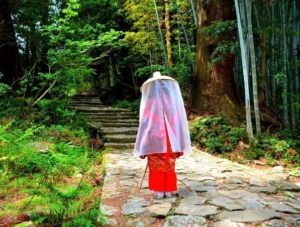 Why not stay at an inn near Nakahechi, where the largest number of pilgrims are said to have walked, and walk on Kumano Kodo and absorb power?
Yunominesou

This is an inn on the hill of Yunomine Onsen. It is a little far from the hot spring resort, so you can enjoy a quiet stay while looking at the magnificent scenery.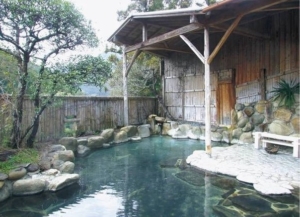 There is a hot spring source at the entrance of the inn, and you can put it in a container and take it home.
The large public bath, which boasts the largest size among Yunomine Onsen, can be used anytime.
There is also an open-air bath.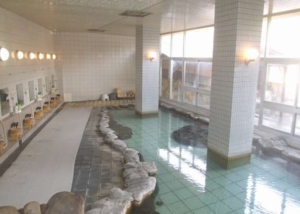 (❁´◡`❁)
In addition, there is a private bath where you can relax by yourself, so please enjoy the Yunomine Onsen which is said to be the best in Japan.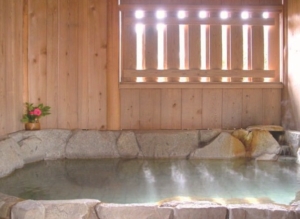 The cuisine made with local brand beef, Mikumano beef, is a special dish only available in this area.
In addition, you can enjoy hot spring dishes which are rare in Japan such as hot spring shabu-shabu and hot spring boiled tofu.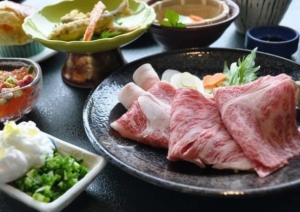 You will be able to experience the deliciousness that you can only taste here.
Yunominesou
Wataze Onsen Hotel Yamayuri

This inn is located along the Yomura River and has a suspension bridge in front of it. Surrounded by nature, this is a relaxing inn where you can relax while listening to the sound of the river.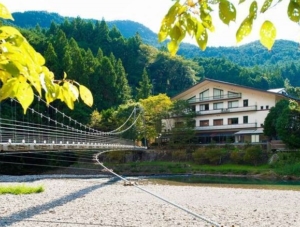 (⊙o⊙)
Wataze Onsen has Yamayuri, Himeyuri and Sasayuri, and there is a large open-air bath in the annex. The most attractive feature of the inn is the hot spring flowing directly from the source, which can be expected to have a beautiful skin effect for women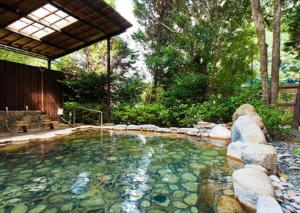 The large open-air bath boasts the largest size in Japan, which can accommodate more than 500 people.
(≧∇≦)ノ
In addition, there are many private baths, and it is also recommended for those who want to relax and soak by themselves.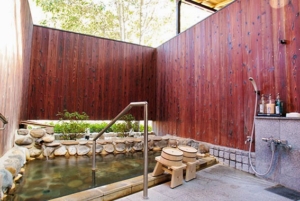 Local ingredients are used for breakfast, and Onsengayu (hot spring porridge) is the specialty. Rice gruel has detox effect and it is a very good meal to adjust the body.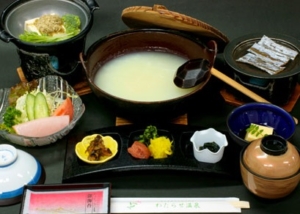 Let's take a walk to Kumano Kodo energetically after breakfast!
Wataze Onsen Hotel Yamayuri
Kirinosato Takahara

This is an inn where you can see the nature of Kumano Kodo from 320 meters above sea level. The beautiful panorama is attractive and you can enjoy the view from the room.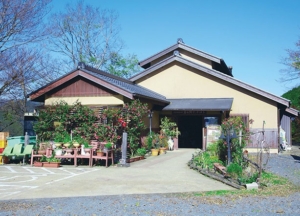 Let's look at the mountains from the open deck and breathe in fresh air.
(●ˇ∀ˇ●)
The lobby is made of high quality wood from the local Kishu area and you can feel the warmth. There are the owner's favorite interior decorations, and the air flows comfortably.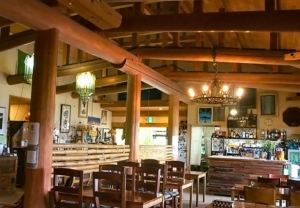 Of course, the rooms are made of wood from Kishu. Please experience a comfortable space like taking a forest bath inside the room.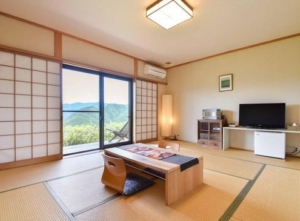 The dishes made with local seasonal ingredients are the pride of the inn. They are particular about organic ingredients such as wine and coffee beans.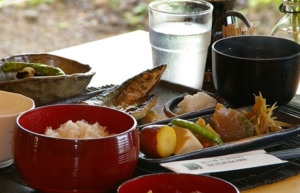 The food that makes the best use of the blessings of nature permeates your relaxed body.
In a location with a superb view, look up to the perfect stars at night and enjoy an extraordinary feeling.♪
Kirinosato Takahara
Minsyuku Adumaya

This is a cozy inn in Yunomine Onsen. All the rooms are Japanese-style, and you can stretch your legs on tatami mat. The dishes made with local ingredients will entertain you.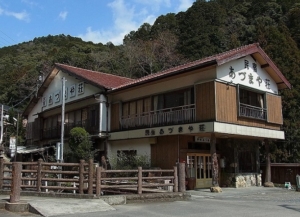 The hot spring where the smell of sulfur tickles your nose is slightly hot. You will feel your daily fatigue drifting away. With a reasonable price, you can fully enjoy your stay which warms your body and heart.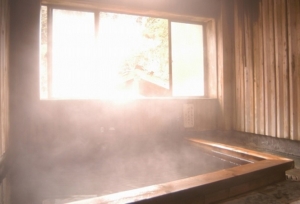 This inn is affiliated with the Ryokan Adumaya in Yunomine Onsen, where you can also use the baths of Adumaya. The open bath has the warmth of wood.
*★,°*:.☆
In addition, there is also a sauna using a hot spring that is rare in Japan and an open-air bath where you can enjoy the view of a Japanese garden.
Be careful not to forget the time and get dizzy because of the fun.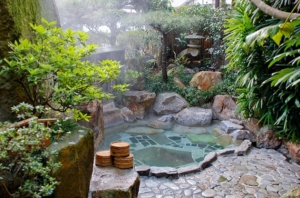 Minsyuku Adumaya
Ryokan Manseiro

This is a seaside inn at the port. It takes about 5 minutes on foot from JR Kii-Katsuura Station, so it is convenient to access by train.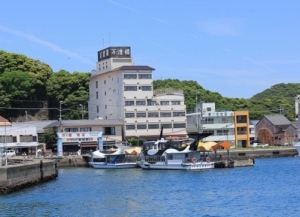 There are 3 footbaths around Katsuura Port near the inn. Taki-no-yu is located in front of Kii-Katsuura Station, so please stop by before going to the inn.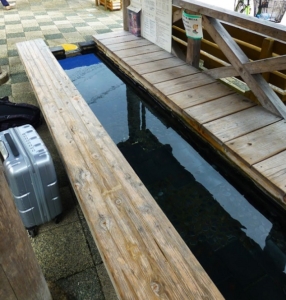 Taki-no-yu
Also, you can relax while looking at the sea in Maguro-no-yu and Umi-no-yu.
(╹ڡ╹ )
In this inn, the dishes using the famous tuna and seafood caught at Katsuura Port and Kumano beef, a specialty of Wakayama, are superb.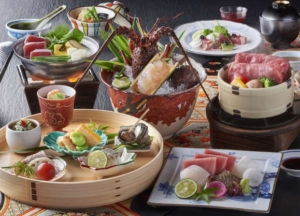 For those who want to enjoy extravagant local cuisine, you can also enjoy the high-quality ingredients of lobster, whale and abalone. Why don't you reward yourself once in a while?
Katsuura Fishing Port has a market about 3 minutes walk from the hotel. Getting up early and feeling the atmosphere of the fishing port is also the best part of the trip.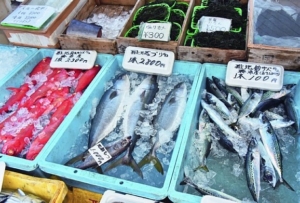 o(≧∀≦)o
Also, whales come to the sea of Nachikatsuura on the Kuroshio Current from April to October. Whale watching is very popular. If you are lucky, you may see killer whales and sharks.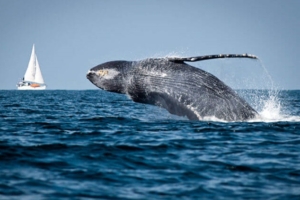 Ryokan Manseiro
Sansuikan Kawayu Midoriya

This inn is located in the middle of the great nature along the Oto River. They offer free shuttle service to Kumano Kodo Hosshinmon Oji at the base of Kumano Hongu Taisha every morning, so it is perfect for Kumano Kodo pilgrimage.
The dynamic open-air bath along the river is attractive.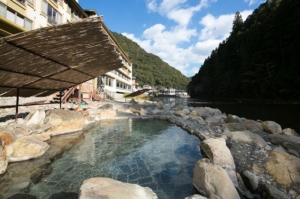 The indoor bath is spacious and you can relax, and you can enjoy the view from the large window.
In addition, there is a Kawayu Onsen (Sennin bath) that uses the hot spring that gushes out in the river only in winter at a place that is about a 7-minute walk from the inn, and you can enjoy the hot spring that is integrated with nature.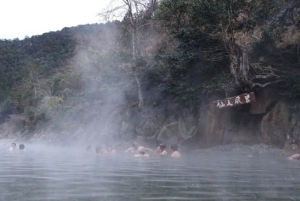 It is a mixed bath, but for women, there is a yukata for the open-air bath, so don't worry. If you don't like it, you can wear a swimsuit. If you soak in and feel the nature of Kumano, your mind will be relaxed.
( *︾▽︾)
Dinner consists of three mini kaiseki dishes and more than 30 kinds of buffet.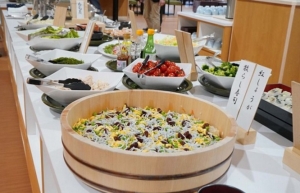 Among them, the grilled sweetfish caught in the river of Kumano is extremely delicious with its puffy and fragrant meat and unique bitterness.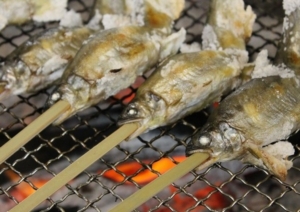 Sansuikan Kawayu Midoriya
Iseya

This is a long-established inn established in 1772. It has a history of more than 240 years. It was temporarily closed due to a flood in 2011, but was renewed in 2015.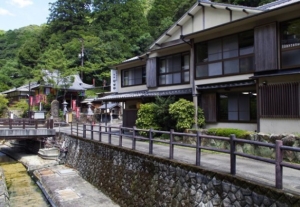 It creates a space where you can spend your time comfortably while leaving the atmosphere of a hot spring resort.♪(´▽`)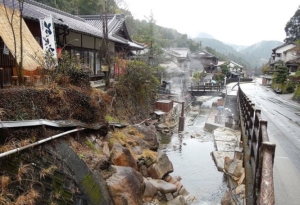 Yunomine Onsen is a tasteful hot spring town with a row of inns across the Yomuragawa river. It's perfect for taking a break. Iseya bath is a hot spring with a high sulfur scent. There is also an open-air bath in the women's bath.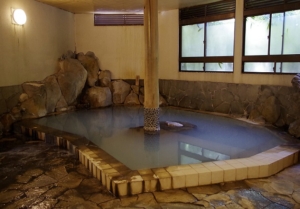 This hot spring has a Tsuboyu that is registered as a World Heritage Site. It was registered as a world heritage site as a hot spring purification place for visiting Kumano.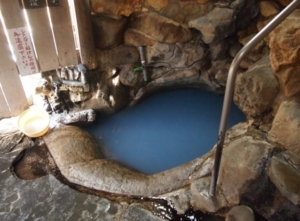 Tsuboyu
The small bath for 2 ~ 3 people with natural rock surface is a 30 minute rotation system, so even one person can enter without worry.
Iseya
If you walk on the Kumano Kodo road surrounded by beautiful nature, all of your body will be restored and your power will come out.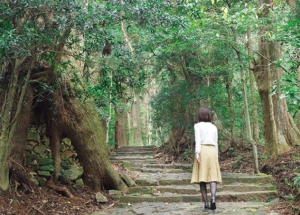 If you breathe in a lot of delicious air and get healed in the hot spring, the accumulated fatigue will disappear. Why don't you enjoy a leisurely trip on Kumano Kodo?
#beautiful_scenery  #onsen  #world_heritage
Nanki Shirahama Toretore Village – Stay Cute Dome Hotel 🐼🐼🐼
(Visited 26 times, 1 visits today)
---