Nanki Shirahama Toretore Village – Stay Cute Dome Hotel 🐼🐼🐼
♥Posted by Maiko♥
Located in southwest Wakayama Prefecture, Nanki Shirahama is famous for its beautiful ocean and onsen.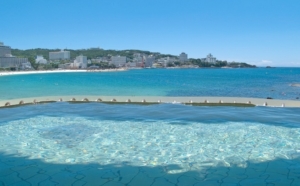 Nanki Shirahama has an unusual accommodation called Nanki Shirahama Toretore Village.
It's a dome-shaped building and creates a strange space like a town in a fantasy novel. While we feel like staying at a villa, we can spend a fulfilling time with the same amenities and facilities as usual hotels!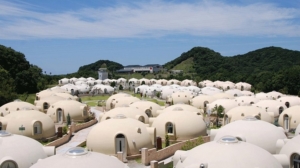 It also has good access to nearby beaches and tourist attractions, so we can use it as a base for sightseeing.(≧∇≦)ノ
Toretore Village Overview
Nanki Shirahama Toretore Village is a Toretore Park accommodation facility where we can comprehensively enjoy onsen, meals and activities.
The dome-shaped room is made of polystyrene foam and has a high heat insulation effect and is warm even in winter. More than anything, this is a hotel that is rapidly becoming a hot topic as we can stay in a cute dome like a hideout.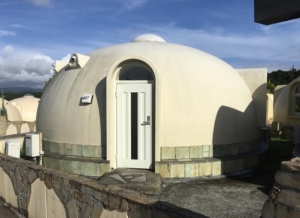 There're 133 dome-shaped buildings in total, and all of them are independent rooms. Therefore, it's easy to protect privacy and is popular among a wide range of people, such as families with small children who care about noise or adult couples who want to stay quietly.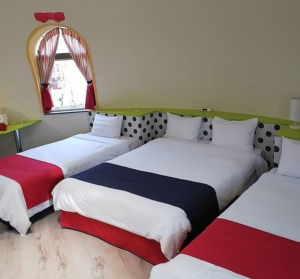 The outside and inside of the room is cream-colored and has a soft atmosphere, making the guests relaxed. Also, the accent color used for the interior varies from room to room, such as red or blue, and there's no room with the same design.
Therefore, even if you visit again, you can always stay fresh.(ノ◕ヮ◕)ノ*:・゚✧
All rooms have different interiors!
The room in the fairy tale zone fulfills our various desires. There's a smoking room here that makes smokers happy. There's also a room where we can spend time with our dog. We need to make a reservation early because there are only a few rooms.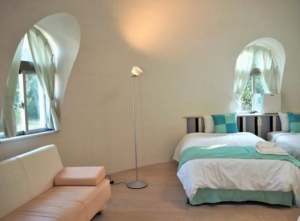 Fantasy zoon room
I recommend the fantasy zone for people with asthma or atopy. The walls are painted with diatomaceous earth, which is said to be friendly to humans and the environment. As a result, ticks, dust and chemicals can be shut out and we can stay comfortably.(❁´◡`❁)
In addition, all windows including skylights are covered with film to block ultraviolet rays, so we don't have to worry about sunburn. Of course all rooms are non-smoking.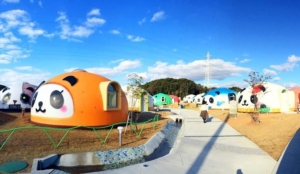 There're basic amenities such as bath towels, hand towels, pajamas, body soap and shampoo. There's also a tea bag so we can drink tea.
Meals and Onsen to Toretore-tei
If we choose the plan with breakfast and dinner at the time of reservation, we can use the restaurant Toretore-tei.
It's about a 3 minute walk from Toretore Village. The menu is a buffet with many kinds of dishes such as sashimi, sushi and meat, so all of your family and friends can enjoy it.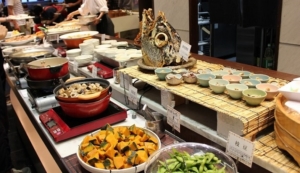 Toretore-tei
There's a restaurant Toretore-ichiba about 5 minutes walk from Toretore village. We can choose Wagyu (Japanese beef) dishes which are popular among foreigners here.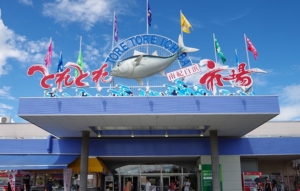 Toretore-ichiba
If we want to fully enjoy Shirahama Onsen, we should use a plan that comes with a 5-minute Toretore no Yu pass. Toretore no Yu is one of the largest hot bath facilities in western Japan, offering various baths such as enzyme bath and jet bath.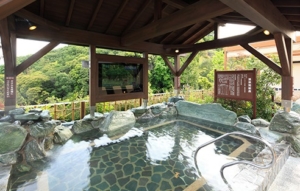 Toretore no Yu
The open-air bath facing the Pacific Ocean has a rock bath, Binchotan bath and a sleeping bath, which are perfect for healing daily fatigue.
Also, the Korean style hot bath facility called Jjimjil Bang Spa is available for both men and women because they wear swimsuits. There's a beauty salon that is good for women and a restaurant for when we are hungry, so we won't get bored even if we spend a day.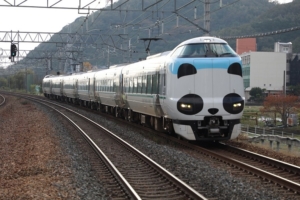 Why don't you stay at a unique hotel in Nanki Shirahama, one of the most famous sightseeing spots in Japan, and enjoy local delicious food, onsen and sightseeing?
Nanki Shirahama Toretore Village
Trailer House in Grampus Inn Shirahama, Japan 🚐
(Visited 747 times, 20 visits today)
---