Get a Water Buffalo Cart in Okinawa – 4 Spots 🐂
♥Posted by Erina♥
The water buffalo cart is one of the essential attractions in Okinawa.
Some people may think of bullfight when they hear the word buffalo, but water buffalo, in contrast to its large horns, have a very gentle personality.ヾ(•ω•`)o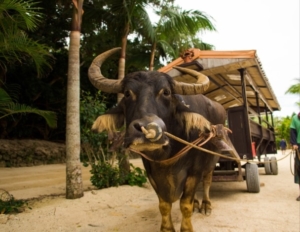 When you come up to it, you will be healed by its charming eyes.(★ ω ★)
Here are four spots where you can ride a water buffalo cart on the main and remote islands of Okinawa Prefecture.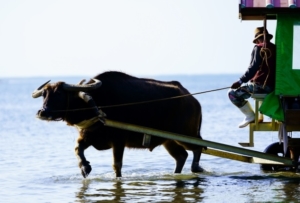 Perfect for those who want to relax and enjoy a local feeling while bathing in a comfortable breeze.
Why not include it in your travel plan and enjoy the soothing Okinawan time flowing slowly?
Line of Fukugi trees in Bise (The main island)
If you go further north from Okinawa Churaumi Aquarium in the northern part of Okinawa main island, you will find Line of Fukugi trees in Bise.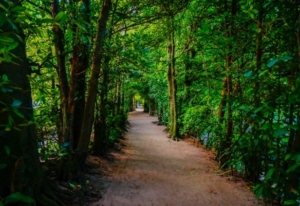 This area is popular for its unique view of an Okinawan village of about 20,000 Fukugi trees and traditional houses.
It's good to walk slowly or go around by rental bicycle, but you can also take your time to explore by water buffalo cart. It takes about 20 minutes.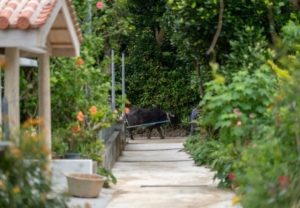 The owner of the cart will take you around the Fukugi tunnel at your own pace.
Since it is close to the sea, the comfortable sea breeze provides you with comfortable healing. The Line of Fukugi trees is about 3 km long, and you can slowly see and hide various views.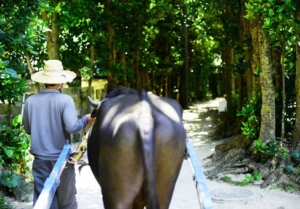 In the village of Bise, there are old houses which are traditional in Okinawa.
On the tiled roof, Shisas who is considered to be the guardian god of Okinawa, keeps watch over the house from overhead. These are things that must be done in Okinawa, which is deeply religious.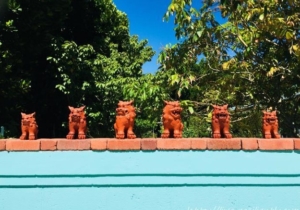 Also, there are lots of things to see such as the blue of the sea from among the sugarcane fields and trees.
For more information
Bios no Oka (The main island)
You can experience an attraction of water buffalo cart at Bios-no-Oka in the middle of Okinawa main island.
The cart stop is located about 200 meters away from the entrance of the park, so let's buy a ticket here.
※In addition to the water buffalo cart fare, there is an additional Bios-no-Oka admission fee.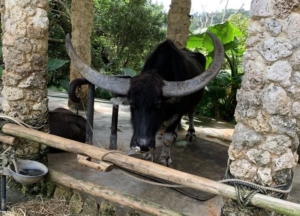 ​The cart can hold up to 20 people. Listening to the sound of the Sanshin, it moves slowly through the subtropical trees. It takes about 25 minutes.
You can refresh your body and mind while being exposed to negative ions.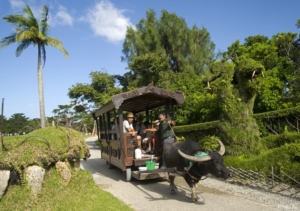 In Okinawa, even in winter, the scenery rich in greenery is constant. And speaking of Bios-no-Oka, there are many people who come here many times to enjoy the sight of the orchids in full bloom and their lovely aroma. ♥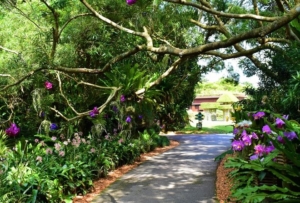 Besides water buffalo carts, there are many other places to play. There are lots of attractions such as jungle cruises, canoes, road trains,adventure playground, mini zoos, and so on.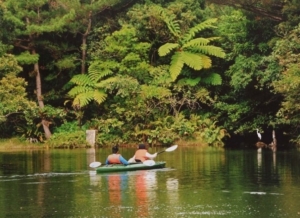 There are many cute animals in the park. Wild birds also gather, so if you like animals, you will surely get excited!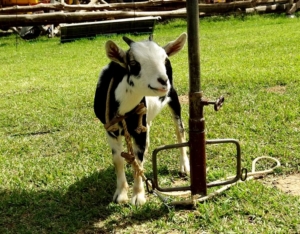 They sell animal feed, so you can enjoy feeding experience easily.
For more information
Information of ​the water buffalo cart
Yufu Island (The remote island)
Yufu Island is a very small island about 2.1 km around the island. The sea between Yufu and Iriomote Island is about 400 meters wide and shallow, only about 1 meter high at high tide.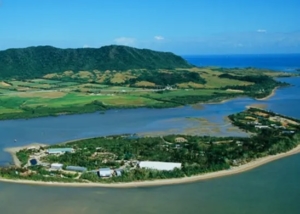 For that reason, water buffalo carts are used as a means of transportation for sightseeing and have become a tourist attraction.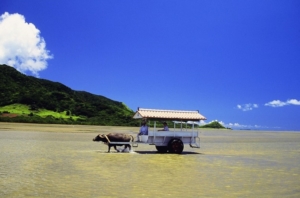 You can enjoy a very peaceful feeling when you are rocked in a water buffalo cart while feeling the sea breeze.
There are Bougainvillea Garden, Butterfly Garden, Buffalo Pond, restaurants, cafes and shops on the island, so you can relax. The one way trip takes about 15 minutes.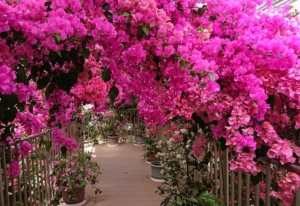 Bougainvillea Garden

In the pond on the island, you can see many water buffaloes soothing their tired bodies.
If the timing is right, you may be able to see a cute water buffalo just born.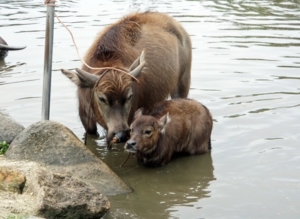 I heard that each water buffalo has a name. They are dressed up with flower decorations made of the island's flowering plants. (✿◡‿  ◡)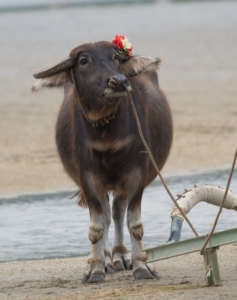 The entire island is a subtropical botanical garden. The island has an almost untouched jungle atmosphere. You can enjoy an adventure feeling as if you were going on an expedition.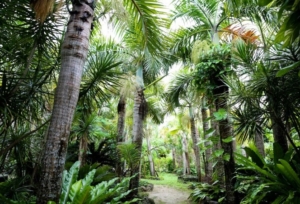 If you go to Yufu Island on foot or by car, you need to pay an additional entrance fee, but the water buffalo cart includes the entrance fee.( $ _ $ )
However, you can only cross at low tide, so you need to check the low tide time in advance.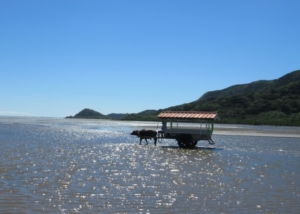 Also, the last water buffalo cart from Yufuj Island is early, around 17 o'clock, so please make sure not to mistake your travel plan.
For more information
Taketomi Island (The remote island)
You can experience a water buffalo cart at Taketomi Island which is about 10 minutes by ferry from Ishigaki Island.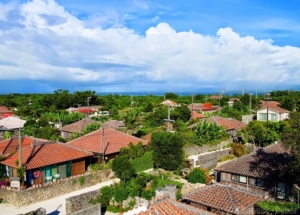 It is an attractive view unique to Taketomi Island that you can leisurely walk along the open street in the town with old stone walls and old houses.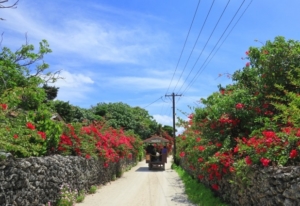 The slow speed of the water buffalo cart is as comfortable as a cradle. This is the best time that will make your body and mind calm, and is far from everyday life.
Let's fully enjoy Taketomi Island which is left as it is with the traditional townscape. The beautiful white road is also a characteristic of the island, and makes you feel clear.( ̄▽ ̄)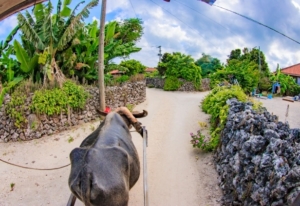 Each buffalo has a name. Please call out in a gentle voice after checking the name.
When you get on a ferry in Ishigaki Island, you can save money by buying a set ticket. You don't need to make a reservation in advance, but the water buffalo cart leaves regularly.
When you arrive at the port of Taketomi Island, they will take you to the stop.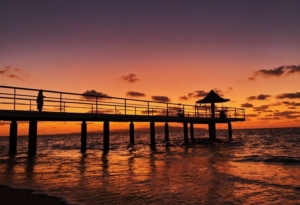 ​Sunset at Taketomi Port
For more information
Water buffaloes are basically quiet, but each one has its own character. What kind of buffalo would you like to be guided?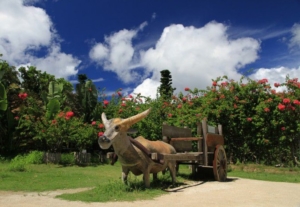 If you go sightseeing in Okinawa, I recommend the experience of a water buffalo cart. Each place has a different view and atmosphere, so it's good to compare them!
How about adding that attraction to your travel plan for your next trip to Okinawa?
Okinawa Island Life Experience – 8 Best Guesthouses 🌴
(Visited 486 times, 9 visits today)
---