HOTEL ANTEROOM KYOTO – The Museum Like Hotel 🎨
♥Posted by Maiko♥
Choosing a place to stay is one of the pleasures of a trip to Kyoto.
If you want to stay in a city that is convenient for sightseeing, but you can't afford a long-established inn or hotel, please check out HOTEL ANTEROOM KYOTO, which is a popular art concept hotel.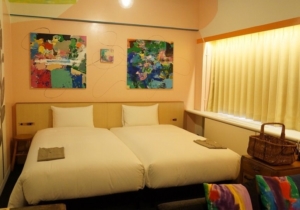 The world of art spreads from the entrance!
HOTEL ANTEROOM KYOTO has a unique exterior, but the entire hotel is a work of art! You will understand that the moment you step into the building.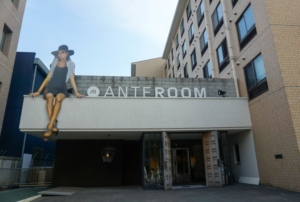 First, there's a gallery at the entrance, and you'll be greeted with the works of talented artists. Everyone will be drawn into the intense art world at this point.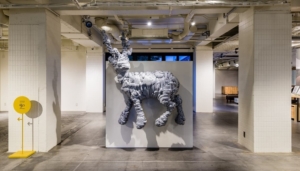 Originally a student dormitory, the building was renovated into a hotel and opened in April 2011. Kyoto has many art universities and many young artists are working there. It was opened as a hotel where you can enjoy not only traditional culture but also modern art.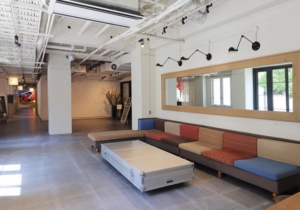 The interior of the hotel is brighter and more friendly than I imagined, and it has the atmosphere of a share house.
The staff members are all wearing matching T-shirts, which makes you feel as if you came to a shared house where friends gather.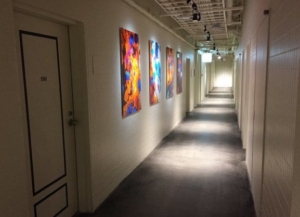 After you check in at the front desk, you can see the artworks everywhere until you get to your room. You may not know whether you are in a hotel or the Museum of Contemporary Art.
The biggest attraction of the hotel is that you can easily enjoy the extraordinary space anywhere in the hotel!
HOTEL ANTEROOM KYOTO
8 Great Concept Rooms
When the hotel was renovated in 2016, it attracted more attention. The 8 concept rooms were created by eight artists who are active in Japan and overseas, and each guest room is expressed with a unique world view like a gallery. Whichever room you choose, it will be a wonderful experience!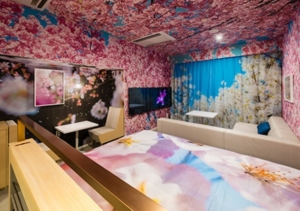 The characteristic room is a typical Japanese room with cherry blossom art on the walls and ceiling. This is a work by Mika Ninagawa, and there're some tricks hidden in the room.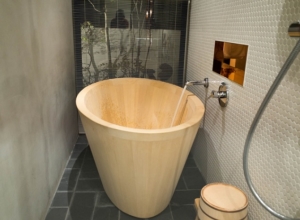 The bathtub is made of cypress from Aomori prefecture. It's the best time to enjoy the view of the garden while being surrounded by the pleasant smell of wood. Of course, there're plenty of amenities.♪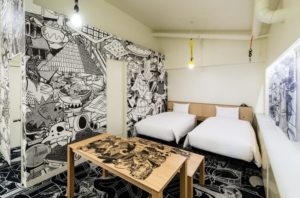 It's comfortable to stay surrounded by the art we like!
ANTEROOM MEALS
You can have breakfast at ANTEROOM MEALS.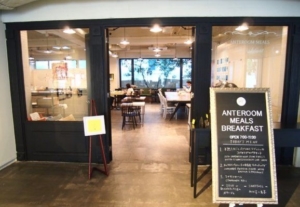 The breakfast on the tray is an art work of taste! It's delicious and healthy because seasonal ingredients of Kyoto are used and cooked while it is fresh.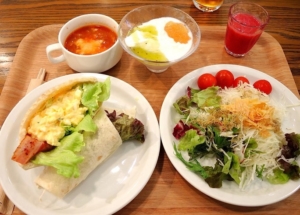 HOTEL ANTEROOM KYOTO is a great hotel that reflects the present of Kyoto. It's a space where you can feel the freshness no matter how many times you stay.*★,°*:.☆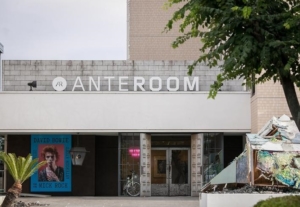 I'm sure this hotel will make your Kyoto trip more atmospheric!
HOTEL ANTEROOM KYOTO
Nanki Shirahama Toretore Village – Stay Cute Dome Hotel 🐼🐼🐼
(Visited 55 times, 1 visits today)
---