Special Time Spent in HOTEL CULTIA Dazaifu – Fukuoka ⛩
♥Posted by Misato♥
Dazaifu Tenmangu Shrine in Fukuoka Prefecture is one of the most popular tourist spots in Japan. It enshrines Sugawara no Michizane, who is famous as the god of learning, and many worshippers visit there.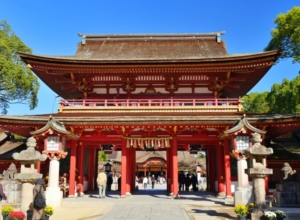 Dazaifu Tenmangu Shrine
In addition, there are many attractive places such as delicious gourmet, love power spot, and a museum where you can enjoy with your five senses.
Dazaifu is easy to access from the city of Fukuoka, so many people enjoy it as a day trip, but it has the charm that you can feel only because you stay there.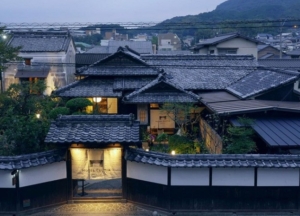 This time, I suggest staying at a hotel renovated from an old building HOTEL CULTIA Dazaifu.
Why don't you stay in a hotel where you can enjoy historical interiors, spacious rooms and special amenities?
Time slip to the past
This is an old house hotel near Dazaifu Tenmangu. The historic building that has been carefully passed down for many years has been restored and it has become a space where visitors can spend their time as if they were living there.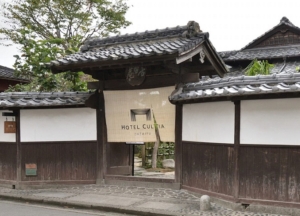 The name of the hotel, CULTIA is derived from CULTURE, and the logo is based on the "gate" that signifies that Kyushu was a cultural gateway.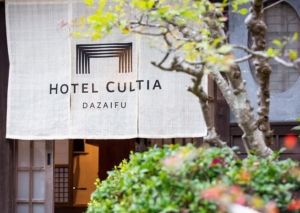 Once you step into the hotel, you will feel as if you have slipped back in time to an unknown Japanese past. You will feel the special feeling of the atmosphere and power of Dazaifu Tenmangu nearby.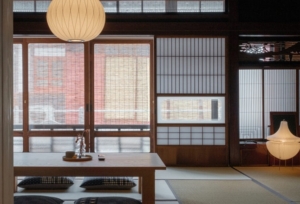 You can not only stay at a hotel, but also experience and feel the atmosphere that you can only experience here.
Why don't you go through the gates of a hotel full of history and culture?
HOTEL CULTIA Dazaifu
This wooden building has recovered the atmosphere and taste of the time when it was the most glittering, and is filled with the designer's wish that "keep and make good use".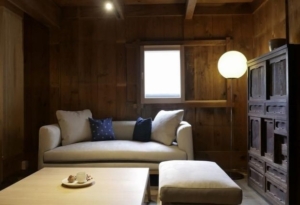 The sooty walls and damaged pillars are seen as aged deterioration and dirt, but the preciousness of the time that the building carved remains there. You can enjoy a space with nostalgia and calmness unique to an old private house.
Attractive 4 guest rooms
There are only 4 guest rooms, each of which is a private space. There are few guest rooms and there are few opportunities to meet people, so you can spend a relaxing time.
Because of the structure of the wooden building with history, the sound is easy to echo. That's why you can experience the modest and peaceful life of people at that time.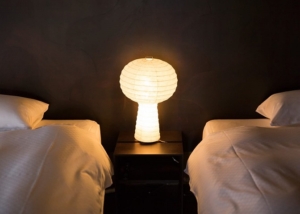 Enjoy a moment away from the hustle and bustle of everyday life without a TV or clock. The atmosphere of each of the 4 rooms I will introduce you now is different.
Which one do you choose?
Room 101
This is a room that renovated a storehouse and rents a whole building. You can enjoy the special feeling of being able to spend time in a building with high historical value.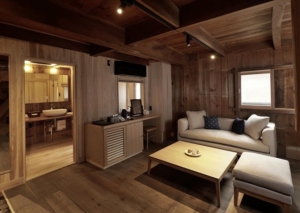 In the living space on the first floor, you can spend a relaxing time reading books or drinking tea while feeling the warmth and aroma of wood.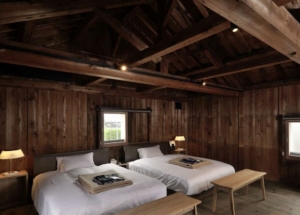 In the bedroom on the second floor, you can relax in the gentle lighting. Relaxed wood, elegant lighting and simple space.
The space is divided between the first and second floors, so you can distinguish between the time you spend with friends or lovers, and the time you spend alone.
Room 102
This is a room with a courtyard where you can enjoy the scenery of the four seasons. I think you'll be healed by the relaxed brightness of wood and lighting.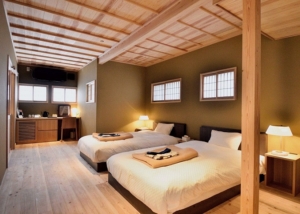 The natural light from the shoji window is also one of the interior decorations. Just spending time here will relax your body and mind.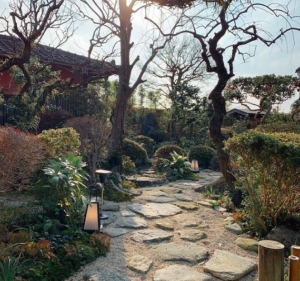 Why don't you sit on a chair by the window and look at the courtyard and relax? Then you will feel very luxurious spending time doing nothing while traveling.
HOTEL CULTIA Dazaifu
Room 103
This is a guest room in the building that has been inherited for generations by the Yoshitsugu family who were Shinto priests of Dazaifu Tenmangu. It has a high historical value, and just by being in that tasteful space, evil thoughts will be removed and my mind will be corrected.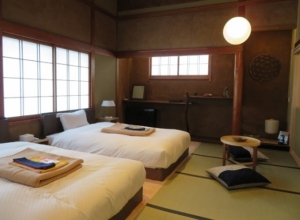 You can experience the culture that Japanese people have cherished, such as the feel of shoji and tatami mats, which change their color depending on the light, such as the sunrise and sunset.
When you wake up in the morning, you will be able to feel the light from outside and start a pleasant day. Why don't you lie down on tatami mats or look at the courtyard on the veranda and relax?
Room 104
This guest room was renovated while retaining the advantages of a space with historical value, and you can feel the attention paid to every corner of the building.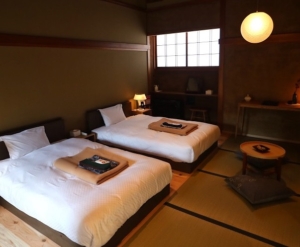 You will be fascinated by the solemnity and delicate touch of the transom and door. If you spend time in such a space, your sensibility will be improved.
The bedroom also has a historical design and feel, making it feel like you're on a page in a novel. With the gentle scent of tatami and wood, touch the sheets and pillowcases made of the finest linen and you'll be able to sleep deeper than usual.
HOTEL CULTIA Dazaifu
Carefully selected equipment
All rooms are equipped with a cypress bath. You can fully feel the warmth of the wood filled with the craftsman's attention. Wrapped in a gentle fragrance, you will naturally breathe deeply and relax.(~ ̄▽ ̄)~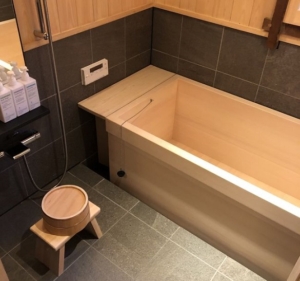 The amenities are simple, but each one is full of details. You can feel the compassion of the hotel in every detail. Please feel it by touching and using them.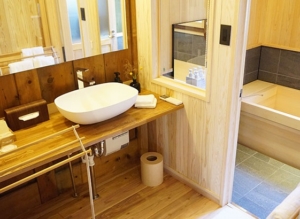 The bath uses CODAGE, a French skin care brand. The brand, which first arrived in Japan in 2018, is particular about natural and organic. It looks like you can have healthy hair.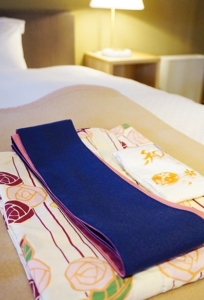 You will be wearing a yukata with elegant patterns during your stay. The chic obi is perfect for the atmosphere of this hotel. If you wear a comfortable Yukata, you will be able to relax both physically and mentally.
You can spend time in Yukata at the dining room, so please put your valuables in a cute Kinchaku when you leave your room.
Special worship experience
Actually, guests of this hotel can participate in the official worship at night held at Dazaifu Tenmangu after the gate closes. It is a special space where only those who are allowed to enter.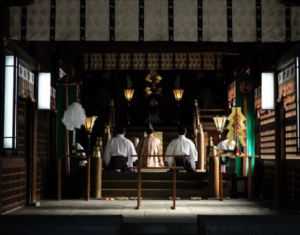 Guided by a Shinto priest, the time you walk toward the main shrine will be a marvelous feeling with tension and an uplifting heart. Experience an irreplaceable moment to face yourself in a sacred place in silence.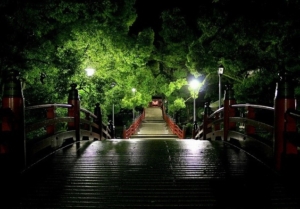 Dazaifu Tenmangu at night has a completely different atmosphere from that of the daytime, and a somewhat solemn atmosphere flows through the silence. It is also recommended to walk around the area after visiting the shrine at night.
Meal time in a calm space
The restaurant Luang has an atmosphere of Meiji era. The tables are lined up at a moderate distance and there is a space between the seats so you can relax. There are many windows, and the comfortable wind passing through is one essence that brings out the comfort. Please enjoy your meal in an open atmosphere.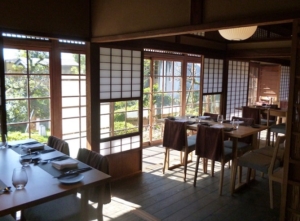 As for cuisine, you can enjoy specialty products delivered from various places in the same Kyushu region. They are colorful and elegant dishes made from abundant ingredients.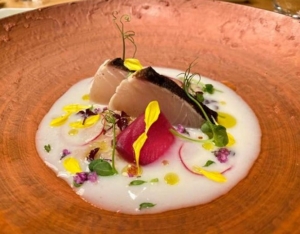 It is one of the pleasures of Japanese cuisine to appreciate the tableware. The beautiful appearance like a work of art seems to be satisfied just by looking.
You can enjoy a lot of side dishes little by little for breakfast, so your stomach and mind will be very satisfied. If you charge your energy with a balanced meal, you can enjoy your trip energetically.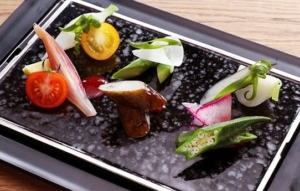 You can eat it in your room, so you don't have to worry about the surroundings, and you can enjoy the taste from the morning.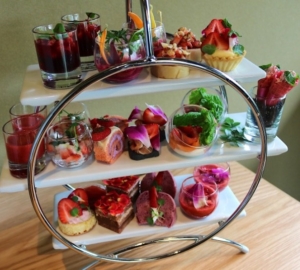 How about afternoon tea in the afternoon? There are cute and delicious sweets and drinks.♪ It is made with local ingredients, so I think you can enjoy Fukuoka more. Please spend a calm afternoon looking at the Japanese garden.
HOTEL CULTIA Dazaifu
Let's take part in the morning worship!
If you participate in the morning worship held at Dazaifu Tenmangu from 8:30 every day, you will feel at ease if you feel the sacred air from early in the morning.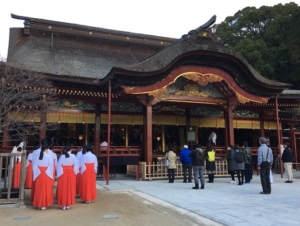 There are fewer people in the precincts in the morning than in the daytime, and the atmosphere is refreshing and dignified. Take a deep breath and let it out slowly. As you repeat, your body and mind will be refreshed. Get up early and start a fresh day!
Recommended gourmet spots
Dazaifusando TENZAN
This is a traditional Japanese sweet shop next to the torii gate. You can buy the famous Monaka with the face of an ogre, strawberry daifuku, Warabimochi and Kushi-dango. All of them are perfect for eating around, so it is always crowded with many people.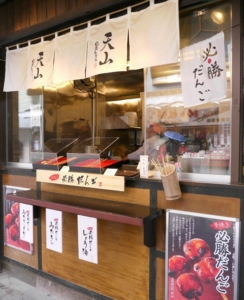 You can enjoy Japanese confectionery using Amaou strawberry for a limited period from late November to March. There are many people who take pictures because they look cute in the showcase.♥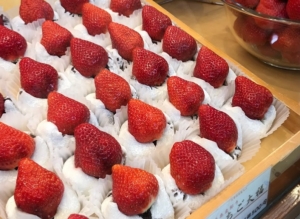 Large strawberries are used, so it's irresistible for strawberry lovers.(★ ω ★)
Amaou Strawberry Daifuku Monaka is a sweet made of strawberry daifuku sandwiched between wafers, and goes well with anko (red bean paste).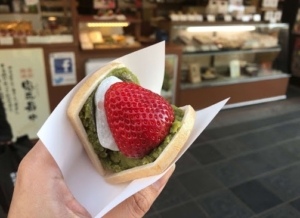 The round look is so cute that you might buy a lot of them greedily. Please enjoy the harmony of Monaka, Anko and Ichigo Daifuku.
For more information
Kasanoya
Umegae-mochi is one of the gourmet foods you should eat when you visit Dazaifu. There are many shops selling Umegae-mochi on the approach to the shrine, but I recommend Kasanoya.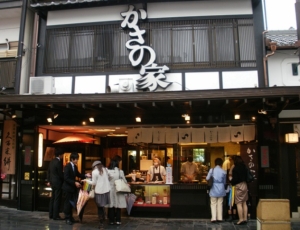 It is a famous shop where there is always a line, and sweet bean paste is superb.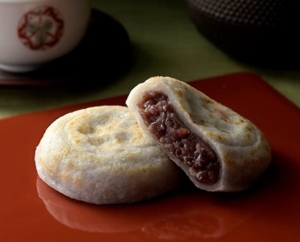 In front of the shop, you can enjoy the sight of craftsmen making Umegae-mochi through the glass. It is hand-baked with plum pattern which is the symbol of Dazaifu Tenmangu. It tastes better if you can actually see each one carefully made.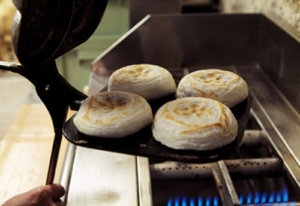 You can enjoy green tea and Umegae-mochi set in the shop. Walking around eating is good, but eating slowly is also great. Why don't you take a break while eating Mochi?
For more information
Recommended sightseeing spots
Kamado Shrine
This shrine is located about 10 minutes by bus from Dazaifu Tenmangu. Nestled at the foot of Mount Homan, representing Kyushu, it has a history of over 1350 years. As a matchmaking spot, it is so famous that many people from all over Japan come to pray for a good match.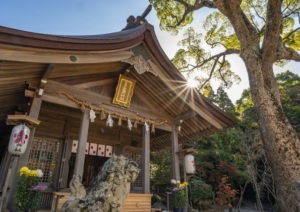 This is a "thread of love" that improves the effect by wearing. This is a set of charms with red thread and plum flowers. Wrap it around your wrist or ankle like a misanga and wear it all the time. The design is simple, so it goes well with any clothes.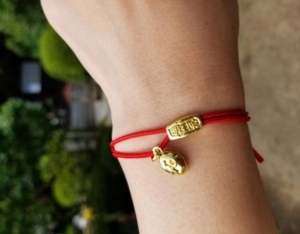 The shrine is also famous among fans as the holy site of Demon Slayer: Kimitsu no Yaiba.
Let's Go To the World of Demon Slayer – All Over Japan 👹
For more information
Starbucks coffee at dazaifutenmangu omotesando
This is located about 4 minutes away on foot from Dazaifu Station, and it is famous for the architecture that Kengo Kuma, a world-famous architect, designed. The harmonious design of the old and beautiful approach is wonderful, and many people visit it as a photo spot.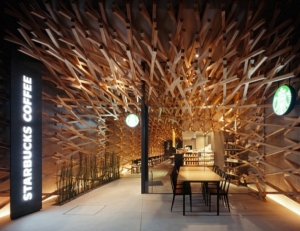 The design concept of "fusion of tradition and modernity" is a fusion of modern concrete and traditional Japanese woodworking. You will feel at ease in its beauty and mysterious atmosphere despite its originality!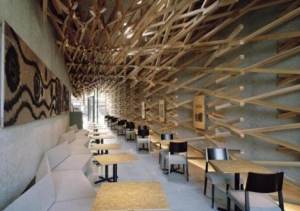 There are wooden frames in the store, and it is a space that is irresistible to architecture and design lovers. The light comes in through the window, and the complicated wooden framework of the wall and ceiling seems to guide the light to the back.
If you visit at opening time when there are few people, you can enjoy the combination of the light and design. Coffee in a special space is exceptional!
For more information
Kyushu National Museum
This museum is about a 10 minute walk from Dazaifu Station. It opened in 2005 as Japan's 4th national museum. While the other 3 national museums are art museums, this is a museum specialized in history.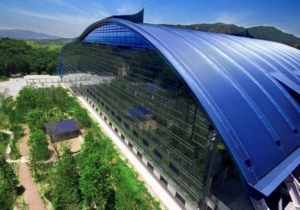 The appearance of the museum with its gentle curve will be impressive. The walls are covered with glass, reflecting trees, and the building itself is designed with curves without corners, so it seems to coexist with the surrounding forest.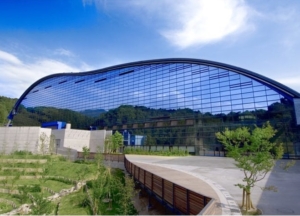 The spacious arched entrance hall takes in outside light and changes its atmosphere according to time and season. It seems to be a piece of art.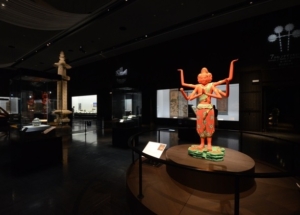 There are many corners and events where you can experience history, and you can actually see, touch and feel it. Not only will you learn, but your five senses will be stimulated and you will be able to polish your sensitivity.
The tunnel that connects the museum and Dazaifu Tenmangu in seven colors is also a must-see!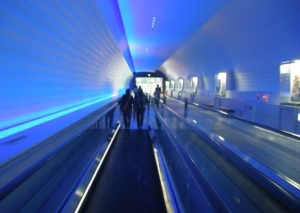 This futuristic feeling is exciting just by walking. This tunnel leads to Dazaifu Tenmangu which is more than 400 years old, so you will feel as if you are going back in time.
For more information
HOTEL CULTIA Dazaifu is a hotel where you can feel the atmosphere of Dazaifu Tenmangu up close. You can have a precious experience such as enjoying yourself in a tasteful space and eating delicious food.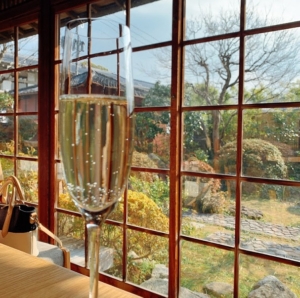 Dazaifu is a place that has a good old history and soothes visitors with its slow flow of time. Why don't you stay at this hotel and spend some time like living?
HOTEL CULTIA Dazaifu
#japanese_life  #rural_life  #machiya
5 Recommended Hakata Ramen in Tenjin, Fukuoka 🍜
(Visited 56 times, 1 visits today)
---