5 Recommended Bars for Craft Beer in Sapporo 🍺
♥Posted by Maiko♥
Sapporo is famous for beer as represented by Sapporo Breweries.
In recent years, there have been more and more bars where you can enjoy craft beer that is particular about malt and hops.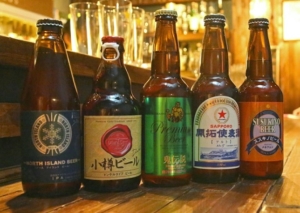 As the name suggests, craft beer is a beer that is made by a producer who puts his or her knowledge and skills into it.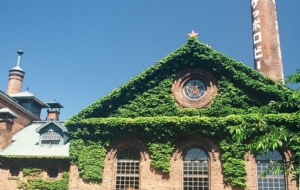 They are mainly made by small breweries, have spread mainly in Europe and the U.S., and have recently become quite established in Japan.
I would like to introduce 5 recommended bars so that you can enjoy such delicious craft beer as one of the pleasures of sightseeing!
KALAHANA
It is one of the famous bars serving Sapporo craft beer. Here you can try craft beers from all over the world, from Japan to England and U.S..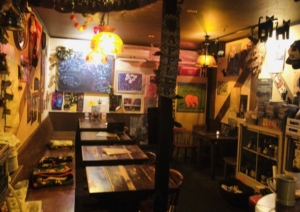 Even beginners of craft beer can come to the bar without any worries, because the knowledgeable staff will tell you the characteristics of each beer carefully.
There is a terrace space in front of the bar and you will feel as if it is a pub in London.
Craft beer has really various tastes. This one is really rare Oyster stout.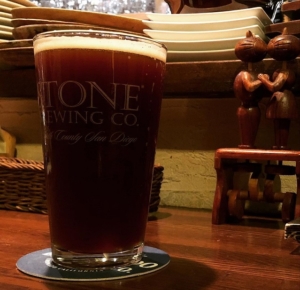 That's right! In other words, it's oyster beer. Rich yet refreshing taste.☆⌒(*^-゜)v
There's no doubt you'll feel great if you drink craft beer with delicious local food in hand!
For more information
COOL BEAR CRAFT
In order to meet the demand of craft beer lovers, this bar always has 8 kinds of domestic brands and 2 kinds of foreign brands.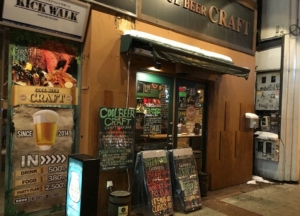 It faces the street and there is a big sign that is easy to find.
You can enjoy a good balance of domestic and foreign craft beer. There is an all-you-can-drink course which is rare for a bar that serves craft beer, so let's try various kinds and find your preference.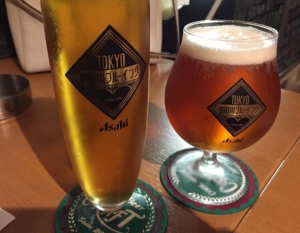 This is a steak with tender red meat from Wagyu in Hokkaido. Juicy meat goes well with plenty of sauce.(≧∇≦)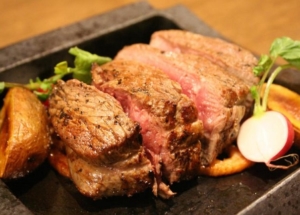 The wasabi used in the sauce brings out the original taste of the meat.
For more information
Beer Cellar Sapporo
This bar mainly sells craft beer from Oregon, USA, where Portland, a sister city of Sapporo, is located. This bar is so famous that many local beer connoisseurs know it.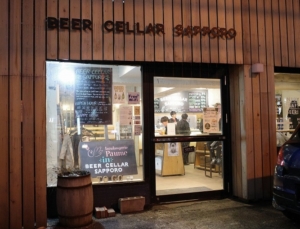 The exterior has a bright design, and you can feel the warmth of wood because it is a wooden building. There are several terrace seats available, so I recommend this one on a sunny day.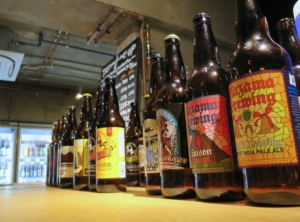 Not only can you drink beer here, but you can also buy a selection of craft beers from the owner.
This is a tasting set. You can tell the staff what you want, choose 4 kinds and compare them. It's 1,000 yen for 4 glasses. Tastable craft beers vary from day to day, but there are always about 12 varieties available.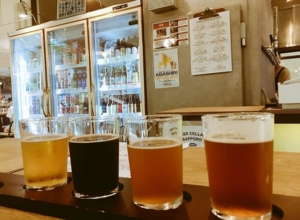 The bread in this bar is made with flour from Hokkaido and the yeast is homemade. The aroma of wheat is very good and matches well with the flavor of beer!
For more information
Beer Bar NORTH ISLAND
It is a bar where you can drink craft beer made in a brewery in Ebetsu, Hokkaido.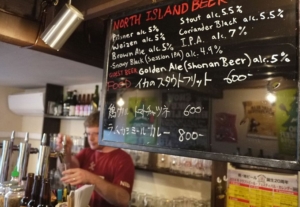 There are always about 8 kinds of beer such as North Island beer which is the name of the bar and limited time beer.
In addition to the standard items such as Pilsner and IPA, you can also have the unusual Coriander Black.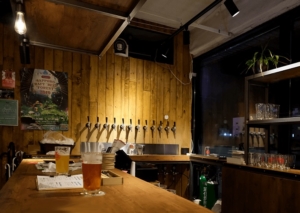 On the 1st floor, there are counter seats and standing seats, and on the upper floor, there are seats where you can relax, such as a sofa, in an attic atmosphere.
The white beer Weizen is made from selected wheat "Haruyutaka" from Ebetsu. The fruity taste with less bitterness is easy to drink even for beginners of craft beer or women.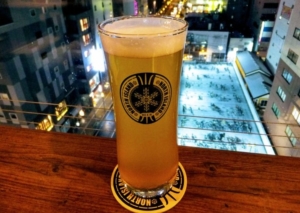 Would you like Weisswurst (white sausage) with your beer? This sausage, ham, and bacon are all made from Ebetsu Tonden Farm.
For more information
Moon Sun Brewing
This is a bar where you can enjoy homemade craft beer and dishes made with Hokkaido ingredients.
The noren with an impressive logo is characteristic. The interior of the bar is filled with the warmth of wood and it is a comfortable space.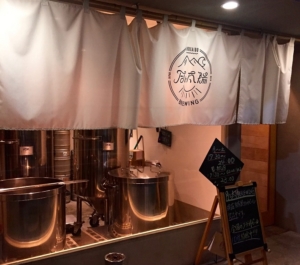 The number of fans is increasing due to the variety of craft beer and the high quality of service, so I recommend you to make a reservation on weekends.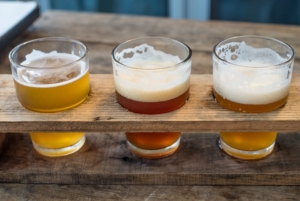 The bar always has about 10 kinds of craft beer that changes daily or in barrels. There is a tasting set you can choose from 3 kinds and 5 kinds.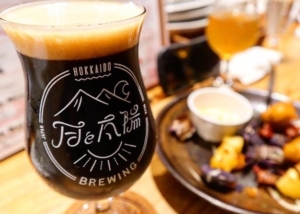 The dishes make use of ingredients from Hokkaido, and they are popular because they go well with beer.(≧∀≦)
For more information
Did you find your favorite bar?
There are many unique bars in Sapporo!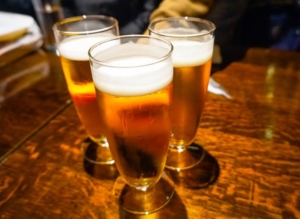 The popularity of craft beer is increasing in Sapporo, so why don't you find your favorite and add it to the fun of sightseeing? []~( ̄▽ ̄)~*
NIPPONIA HOTEL Nara – Sake Brewery Renovation 🍶
(Visited 988 times, 33 visits today)
---