Enjoy a Luxury Stay at MUNI KYOTO ✨
♥Posted by Satomi♥
Arashiyama, one of the most famous sightseeing spots in Kyoto, is an attractive spot with the unchanged scenery and great nature such as Togetsu-kyo Bridge and Tenryuji Temple.
Just taking a leisurely stroll around the city is a place filled with spirit.♪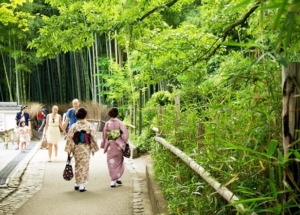 If you want to spend a special day in Arashiyama that you can't experience in daily life, why don't you stay at a luxury inn with nice rooms and food?
(✿◡‿ ◡)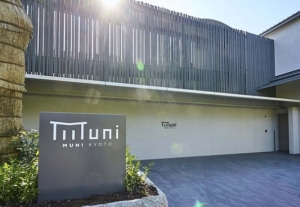 MUNI KYOTO has spacious rooms, a bathroom with a view of the spot garden, and restaurants where you can enjoy high-quality French cuisine.♪(´▽`)
Ancient Japanese architecture, natural Arashiyama and delicious food … will create a special day for you!
Have a special experience at MUNI KYOTO !
If you travel in Arashiyama, I recommend Hotel MUNI KYOTO in front of Togetsukyo Bridge.
Because this hotel offers a luxury experience with simple and tasteful guest rooms and beautiful and delicious French cuisine.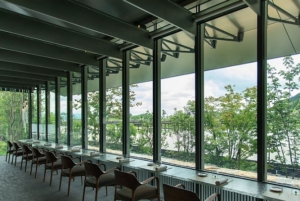 Access to the hotel is about a 4-minute walk from Arashiyama Station on the Randen (Keifuku Electric Railroad).
Togetsu-kyo Bridge, the symbol of Arashiyama, is right in front of the hotel. It is a very convenient location as a base for Arashiyama sightseeing.(≧∀≦)
MUNI KYOTO
Several Stylish Guest Rooms
There are 3 types of rooms in the hotel, and some of them have a view of Togetsu-kyo Bridge and Katsura-gawa River from the window.
You can stay in a very satisfying room with your lover, with your friends, or of course even if you travel alone.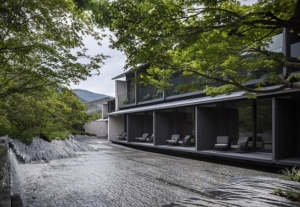 Rooms with Garden Terrace on the 1st Floor
There are three types of rooms with Garden Terrace: Deluxe Twin, Deluxe Double and Premier Twin.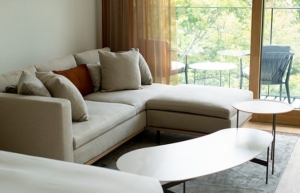 From the deluxe twin and deluxe double, you can enjoy the view of the garden where the water flows smoothly. It is a spacious room with more than 50 ㎡ and you can feel the warmth of the wood.
( *︾▽︾)
The Premier Twin is a luxurious structure where you can enjoy bath time while looking at the private spot garden.
You can go out to the terrace from the window, and you can feel the garden where water flows nearby.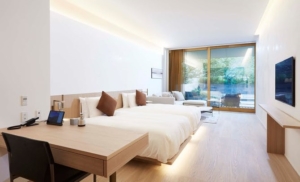 It is very spacious with more than 60 ㎡, and can accommodate up to 3 people, so it is perfect for a luxurious trip with friends.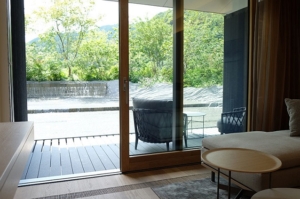 It is such a luxurious time to have tea while looking at the well maintained garden of the hotel. You can relax from the bottom of your heart, so your conversation with your lover or friend will be lively.*★,°*:.☆
Rooms with River View on the 2nd Floor
River View is a type of guest room where you can see Togetsu-kyo Bridge and Katsura-gawa River from the window. You can enjoy the river flow and nature leisurely from the large window.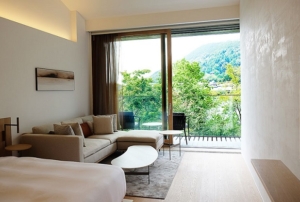 You can spend hours looking at beautiful landscapes that look like paintings. There are three types of rooms, deluxe twin, deluxe double and premium twin.
(❁´◡`❁)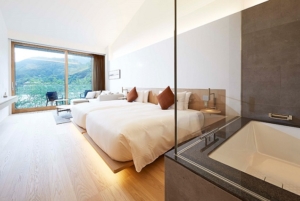 Deluxe twin and deluxe double bathrooms are open spaces made of glass. The screen can be closed, so even friends can protect their privacy. Both types of guest rooms are large, about 49 ㎡.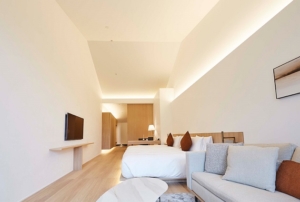 The Premier Twin, which is about 60 ㎡, is the largest type in River View. The ceiling is 4.5 meters at most, so you can feel more spacious. The bathroom is also spacious, so you can relax in the morning.♪
Maisonette Type Rooms
Located on the 2nd and 3rd floors, the Maisonette type is the largest room in the hotel with an area of more than 70 ㎡.
The room can accommodate up to 4 people, so it's perfect for a family or a group.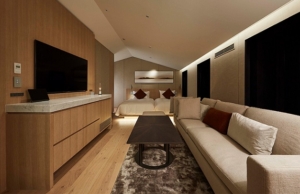 It is divided into the second floor, so you can relax without feeling oppressed even if you spend time with 4 people.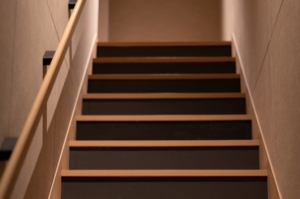 (o゜▽゜)o☆
There are amenities such as shampoo and body wash in every room, so you don't have to bring anything. They are simple and stylish packages.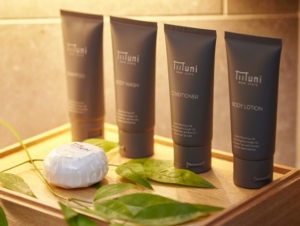 Two Great Restaurants
There are two restaurants in MUNI KYOTO. I'm sure both of them will make a wonderful trip, so please use them for meals during your stay.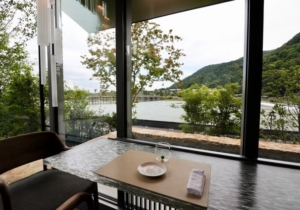 The two restaurants I'm going to show you are both run by Ducasse Paris, founded by French master chef Alan Ducasse.
MUNI ALAIN DUCASSE: Have a special french dinner!
MUNI ALAIN DUCASSE creates an atmosphere with calm lighting.
Enjoy the cuisine of chef Hugues Gérard, who has inherited the culinary philosophy of Alain Ducasse.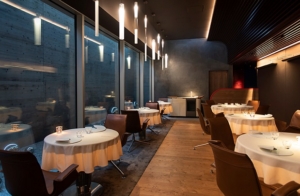 French cuisine made with seasonal fresh ingredients such as ingredients from Kyoto is beautiful to look at and you can enjoy your meal to your heart's content.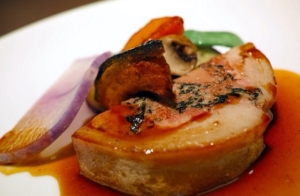 There are private rooms available for 4 to 8 people per room, but I recommend you to make a reservation.
MUNI LA TERRASSE: For unusual breakfast and lunch!
MUNI LA TERRASSE is a restaurant that you can use for breakfast, lunch and dinner. It is full of an extraordinary feeling that you can eat while looking at the Katsura-gawa River.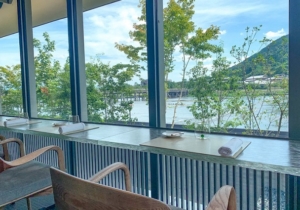 If you can have a meal in such scenery, the special feeling of the trip will be more exciting.
(╹ڡ╹ )
Breakfast includes croissants, fresh juice, pasture yogurt, and more. You can make a reservation at any time.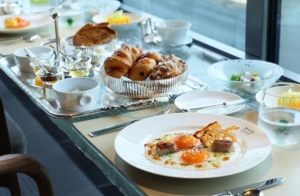 If you plan to use it, you can make a reservation in advance and they will guide you smoothly.
MUNI KYOTO
Facilities that enriches your heart
The hotel has a variety of facilities that make your stay more fulfilling and enjoyable. If you want to enjoy the trip to your heart's content, why don't you make full use of the facilities?
Polish your beauty with MUNI SPA !
If you want to detox and maintain beauty, how about MUNI SPA? There are many treatment menus such as facial, body and acupuncture.*:・゚✧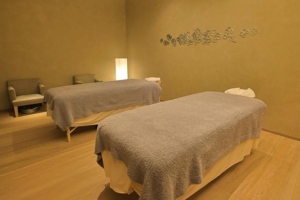 The spa uses original products made with natural materials from Kyoto. It was developed for this spa by Japanese spa brand ALL THAT SPA.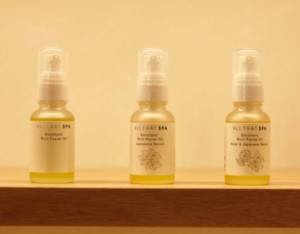 The treatment that incorporates nature seems to enhance the body's natural healing power.
MUNI LA BOUTIQUE ♥
Sweets are essential for girls. In the hotel, there is a shop specializing in baked sweets, MUNI LA BOUTIQUE.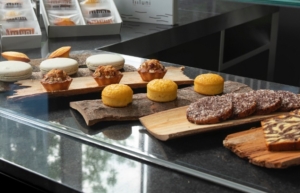 There are cute baked sweets such as financiers, cookies, macaroons and so on lined up in the showcase.♪
Which one will you choose? All?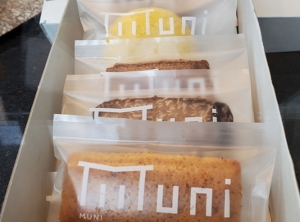 You can eat these sweets at the MUNI LA TERRASSE restaurant that I introduced earlier, but you can also buy them and take them to your hotel room or take them with you for a walk. The nice package will make you excited!
Two Japanese Gardens
The theme of this hotel is the unique scenery of Arashiyama, but you can enjoy the scenery in the hotel.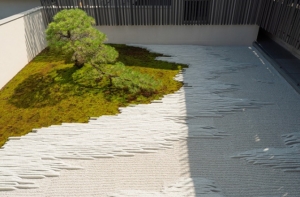 You can see the White Garden of the Zakan-style garden (a garden that is viewed while sitting)  from the entrance. This is a courtyard designed to look like a large painting.
The main garden Black Garden is a Chisen style garden (a garden in which people walk around a pond). The scenery of Arashiyama such as Katsura-gawa River and Mt. Ogura is reproduced.
Please enjoy the actual scenery and look at the garden.
Tourist attractions around the hotel
In front of the hotel is Togetsukyo, a popular sightseeing spot in Arashiyama. Why don't you walk more in Arashiyama?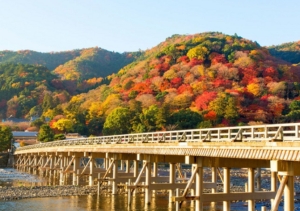 Arashiyama in the autumn season
Here, I will introduce recommended spots that you cannot miss when you come to Arashiyama.
Please drop in when you take a walk.
(≧∇≦)ノ
Fukuda Art Museum
Fukuda Art Museum is next to the hotel, so please visit there. It's an art museum where about 1,500 works of Japanese-style painters are exhibited, and some of them are phantom works and some are exhibited for the first time. The works of the Kyoto art world are especially famous.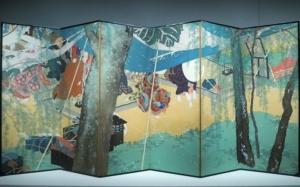 The concept is "Even if you don't know much about art, you will be moved." so you don't have to be an art expert to enjoy it.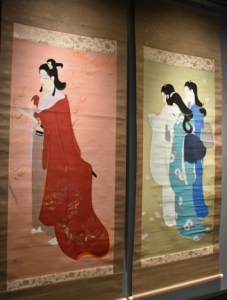 It is possible to take pictures except for a part, so SNS lovers are happy. Let's check the photography prohibition mark carefully and enjoy photography.
For more information
Tenryuji Temple
Tenryuji is one of the popular spots you should visit if you want to walk around Arashiyama.
It is registered as a World Heritage Site as a cultural asset of ancient capital Kyoto.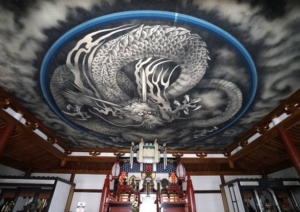 The site is large and there are several places to see such as Cloud Dragon Painting, so I recommend you take your time.
(⊙o⊙)
In the precincts, Sogenchi Pond Garden is the first in Japan to be designated as a historic site and a special place of scenic beauty.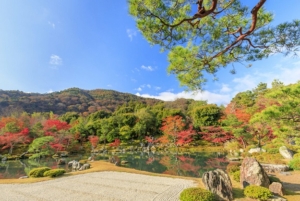 There is a trace of the garden made by Muso Kokushi, so please think about it and feel the history.
For more information
Arashiyama Bamboo Grove
The Bamboo Grove road near Tenryuji has bamboo trees growing on both sides, creating a very fantastic landscape.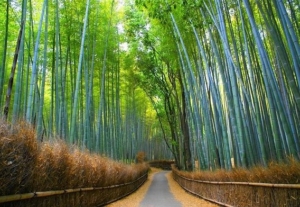 When you watch the sound of bamboos swaying in the wind and the light coming in, your heart seems to be washed. Please take a nice picture.
( *︾▽︾)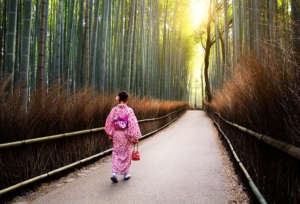 If you rent a Kimono and go out, you can enjoy shooting more. If you take a picture with the scenery that is typical of Arashiyama in the background, it will surely become a picture that you will never forget. Make your special trip more memorable.
For more information
If the hotel is located right in front of Togetsu-kyo Bridge and has stylish guest rooms and delicious meals, you can have a special trip that you can't experience anywhere else.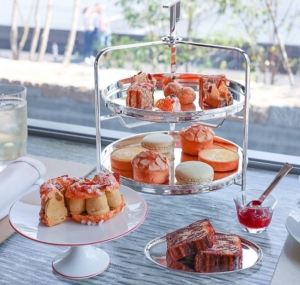 Please enjoy the luxury experience in Arashiyama!
MUNI KYOTO
#luxury  #high_quality  #beautiful_scenery
Nara Hotel – Audrey Hepburn Stayed 🦌
(Visited 46 times, 1 visits today)
---