5 Stylish Starbucks in Kobe, Perfect for Women's Trip ☕
♥Posted by Aya & Misato♥
If you are going on a women's trip to Kobe, why don't you stop by Starbucks Coffee?
In fact, there are many stylish Starbucks that are perfect for sightseeing in Kobe.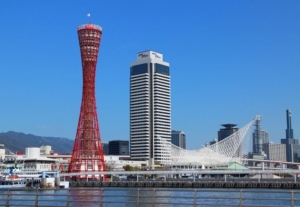 The store renovated from the Ijinkan in the Kitanozaka area, the seaside store with a good view when driving, and the store where you can feel the impact of Akashi Kaikyo Bridge, it looks great with Instagram!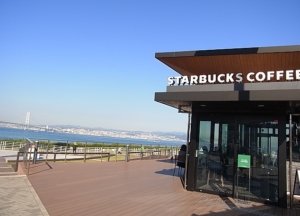 There are also two Starbucks Regional Landmark Stores in Kobe, one of the few in the country. They are designed and built in symbolic locations throughout Japan.
They incorporate the beauty of the region's history, tradition, culture and industry into the concept, and feature a slightly different look from ordinary stores.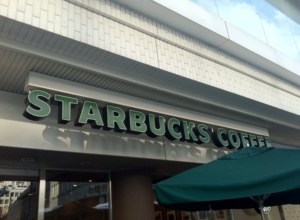 This time, let's introduce you to Kobe's stylish Starbucks that can be enjoyed not only by fans of Starbucks, but also by just stopping by for a break on a women's trip.
Kobe Kyukyoryuchi Store
This is just south of Kobe Nankin-machi. Kobe Kyukyoryuchi (The Kobe Former Foreign Settlement) prospered as an entrance to foreign culture in the past, and is still a town with many historic buildings.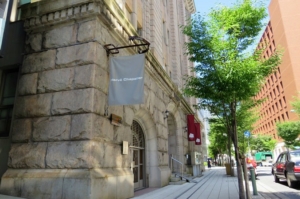 Now, there are fashion brand shops and museums, and it is a stylish area where you can enjoy the present Kobe while enjoying the history.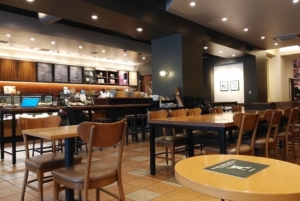 The store is spacious, so you can spend a relaxing time. If you sit on a terrace seat on a sunny day, you can have an open coffee time.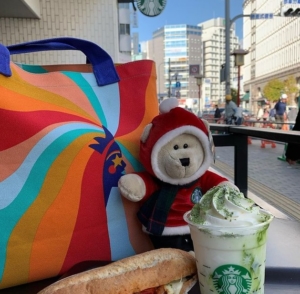 The store supports Starbucks Resurve, which offers unique, high-quality coffee beans that are available in small quantities.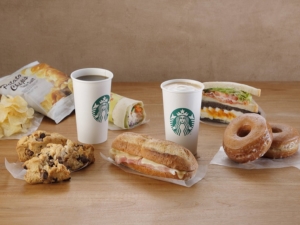 It is a store that not only has an exotic atmosphere like Kobe, but also satisfies coffee connoisseurs.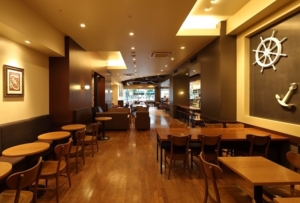 The store is decorated with an image motif of Kobe and you can enjoy the feeling of traveling.
For more information
Kobe Kitano Ijinkan Store
This store was built in 1907 using the Kitano Monogatari-kan, which is designated as a national tangible cultural asset.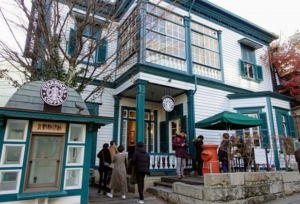 Kitano Monogatari-kan was planned to be demolished after being damaged by the Great Hanshin-Awaji Earthquake, but was rebuilt and moved to its current location in 2001.
It is a store in the historical building.ヾ(•ω•`)o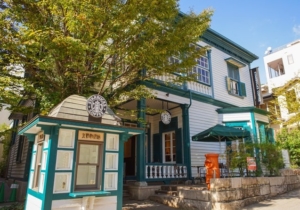 The interior is reminiscent of that time, and rooms are separated on the second floor such as guest rooms and dining rooms.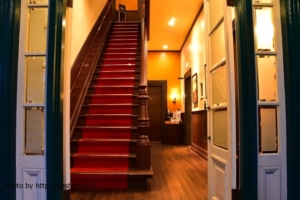 Each room has different furnishings, and some rooms have fancy foreign books and others have impressive red sofas.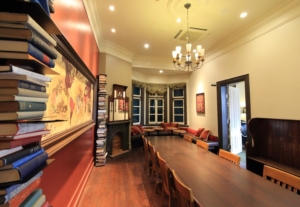 It is not used now, but there is a fireplace, so you can enjoy the atmosphere of the mansion as if you went back in time.(●ˇ∀ˇ●)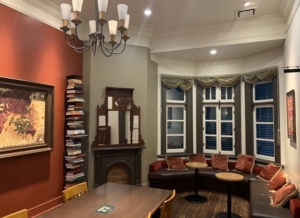 Kitanozaka is a tourist area full of exotic atmosphere with houses where Westerners used to live. Currently, most Ijinkan are used as museums and wedding halls.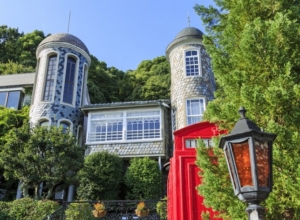 It has a relaxing atmosphere perfect for a walk, so why not take a walk around Kitano after drinking coffee at Starbucks?
For more information
Kobe Meriken Park Store
Kobe Meriken Park was hit by the Great Hanshin-Awaji Earthquake in 1995, but was later restored and renovated.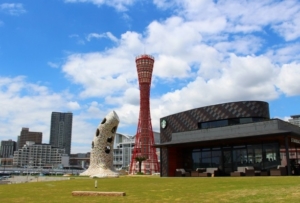 Built to blend in with the beautiful townscape, the Kobe Meriken Park store opened as a regional landmark store in April 2017.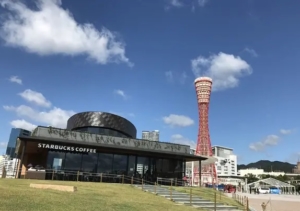 Based on the concept of KOBE HARBOR COFFEE CRUISE, this is a glass-walled store where you can enjoy the scenery outside.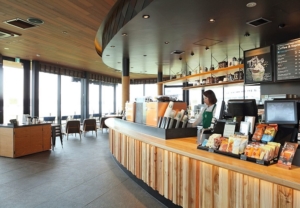 The front panel under the counter on the 1st floor is made of wood from Mount Rokko, so you can feel the warmth of wood.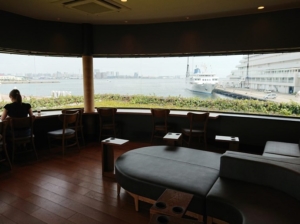 If you go up the wooden stairs to the 2nd floor, you can see the panoramic view of Kobe Port. This is a new tourist attraction filled with the charm of Kobe.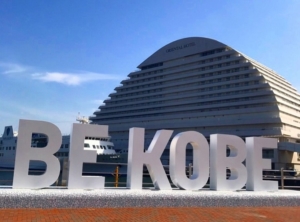 Near the store is the Kobe monument BE KOBE, which is crowded with tourists taking pictures. There is a lawn where you can relax and enjoy the view of Harborland.
For more information
Kobe Nishimaiko Store
Drive along National Route 2, the coastal road leading to the Akashi Kaikyo Bridge, and you will see a square box-like Starbucks. This is a store where you can see the sea with bright light.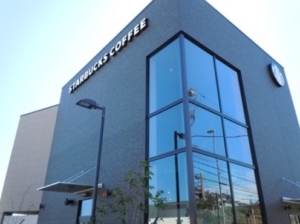 The Akashi Kaikyo Bridge, which connects Kobe and Awaji Island, can be viewed from the store. On a sunny day, the surface of the water sparkles and you can spend an extraordinary time at this location.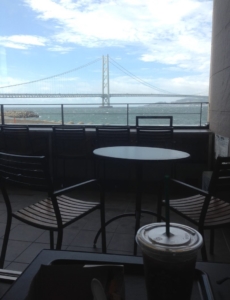 There are also terrace seats, so I recommend it on a sunny day. You can see the Akashi Kaikyo Bridge closer, and you will surely be overwhelmed by the panoramic feeling.(@_@)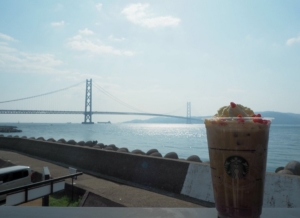 The interior is simple and not so crowded, so you can enjoy a relaxing and luxurious cafe time.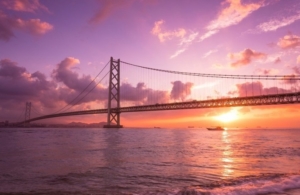 For more information
Awaji Service Area Down Lane Store
Starbucks is in the highway rest area on the Awaji Island side across the Akashi Kaikyo Bridge. This is a spot where you can see Kobe from the opposite side of Akashi Kaikyo Bridge.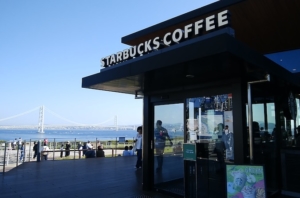 There are not only table seats but also counter seats in the store, so I recommend you to spend your time looking at the scenery outside.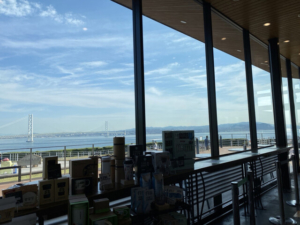 Awaji highway rest area is a famous sightseeing spot with beautiful night view. It is also good to enjoy the illuminated Akashi Kaikyo Bridge and the glittering night view of Kobe behind it.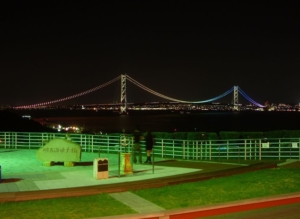 Starbucks are also lit up at night. Enjoy the memorable night view! ◉_◉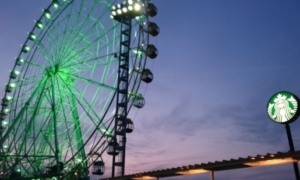 There is also a Ferris wheel near Starbucks, so I recommend you to enjoy the view from above with a cup of coffee.
For more information
There are many stylish Starbucks stores in Kobe.
You can enjoy a different atmosphere from ordinary Starbucks, and feel the charm and history of Kobe, so your trip will be more fulfilling.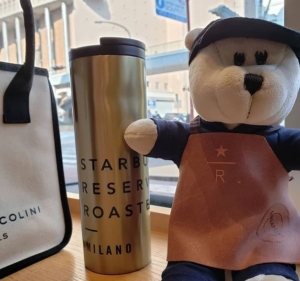 One of Starbucks' charms is that they have limited items such as tumblers and mugs that can only be purchased locally. Goods limited to Kobe are also recommended as travel souvenirs.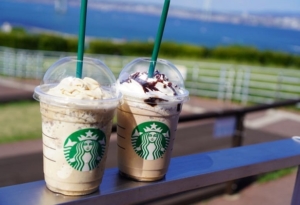 When you travel to Kobe, why don't you enjoy a coffee break at these stores?
PEANUTS HOTEL KOBE – You Can See Snoopy in Every Room!
(Visited 373 times, 25 visits today)
---